Professional-Grade Kitchen Seamlessly Blends Function with Design
2023 0 comments
As self-described "culinary and design fanatics," our recent clients had high expectations for their kitchen remodel. They wanted a space that would both accommodate their hobby as home chefs while showcasing premium design elements—needless to say, we were excited to take on this unique project.
Our design team began by reconfiguring the kitchen's original footprint to open up the space and add an island, which houses a prep sink, concealed dishwasher and mobile baker's rack. The island's white countertop doesn't just look amazing—it's also burn proof because these home chefs love to use their blowtorch!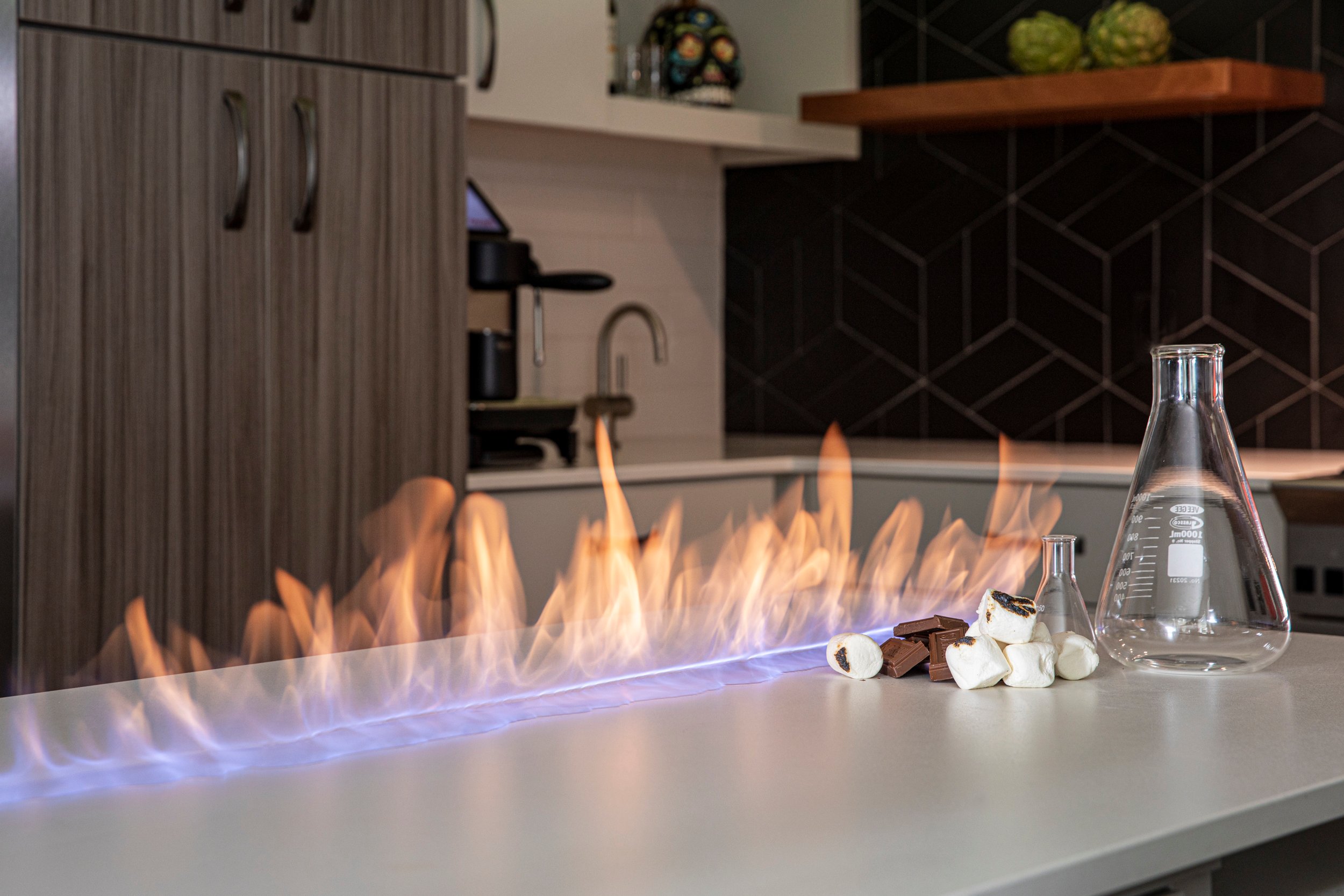 Bright white base cabinets throughout are the perfect neutral backdrop to allow the beautiful feature backsplash to shine. The tricky 3D cube tile installation, which required meticulous alignment and layout, was well worth the effort. The dark grout tones down the pattern just enough to prevent the wall from overtaking the room. Mahogany floating corner shelves and a stainless-steel vent hood over the commercial gas range complete the look.
The built-in commercial refrigerator is flanked by two-tone frameless cabinets, complete with a slim closet on the side for ample storage.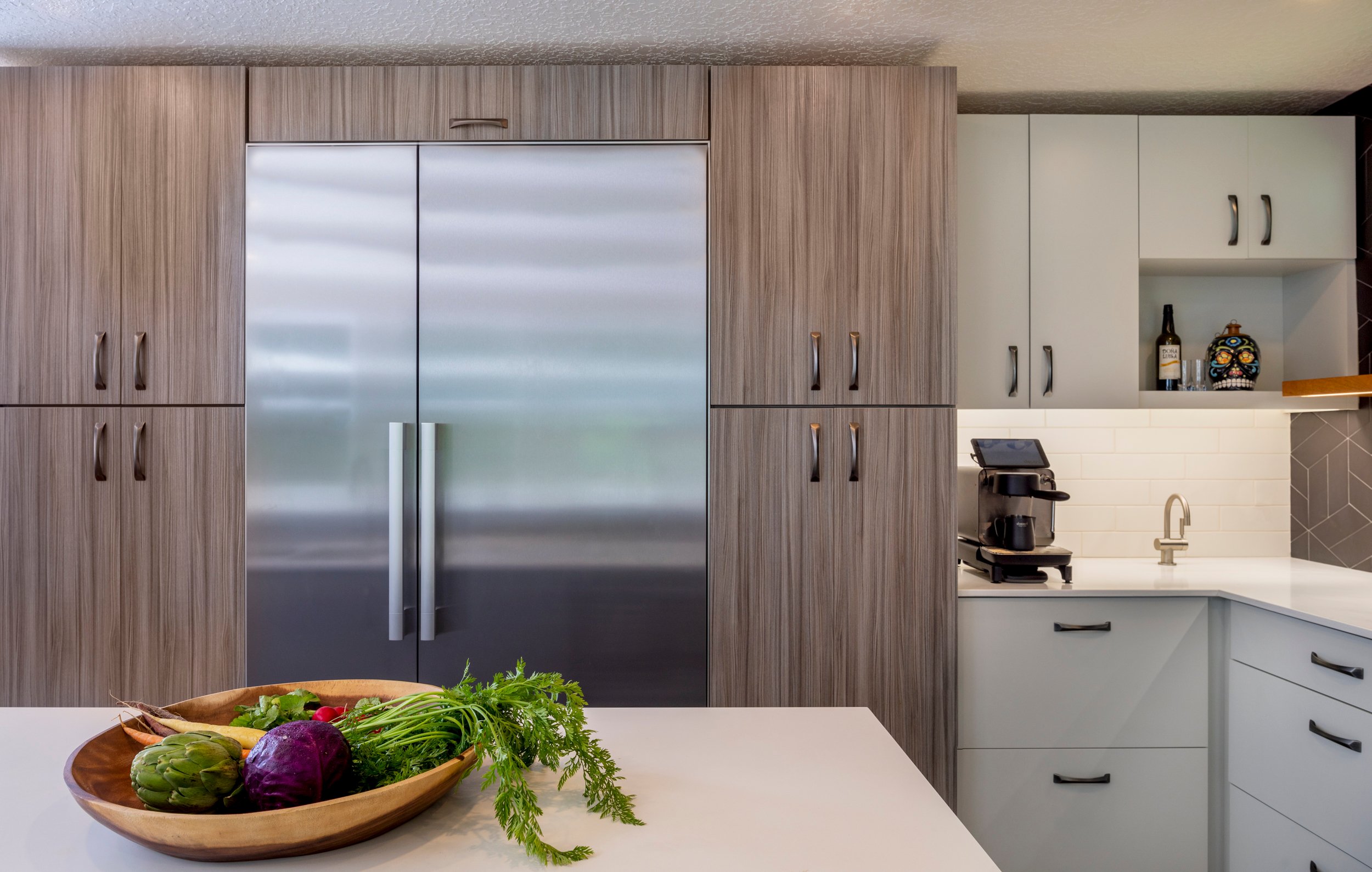 For seating, our team added a gorgeous custom countertop with a long overhand made of Eastern Oregon walnut to the kitchen's outer peninsula. Nestled against the outer wall, this spot includes built-in shelves to store cookbooks—the perfect place to enjoy a cup of coffee while perusing new recipes.
A full wall of custom windows in a unique layout brings tons of natural light into the space and showcases the surrounding forest views. This wall took a lot of planning, but the stunning completed effect proves it was well worth the effort.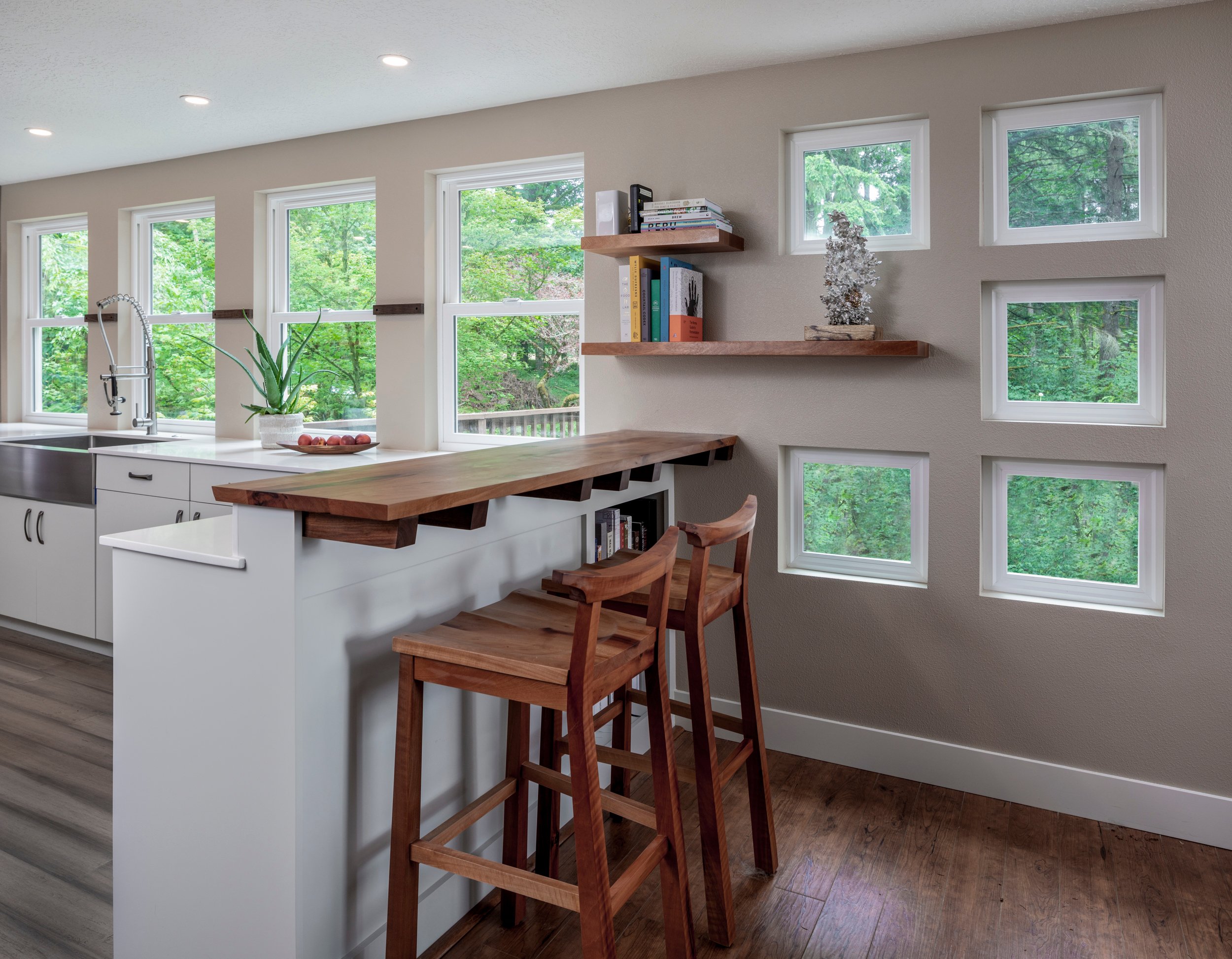 This high-impact space looks absolutely phenomenal, but what's more is that we actually managed to come in under the estimated budget AND stick to the project's timeline. We strategically chose cost-effective materials where it made sense, like using vinyl windows and LVP flooring, and then relied on phenomenal design, like creatively patterning inexpensive tiles and artfully designing transitions to other rooms, to really make the kitchen pop. Ultimately, great design choices allowed our clients to get everything on their dream kitchen wish list without breaking the bank.
Is your kitchen ready for an upgrade? Creekstone can help! Click here to schedule a consultation today.