How to Transform Your Basement Into the Perfect In-Law Suite
2020 0 comments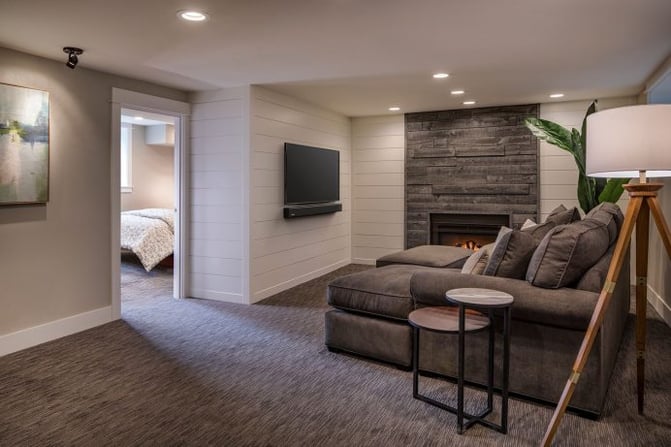 While adding a bathroom to your home can have an ROI of 70%, sometimes you need to make home additions and renovations for more immediate, practical purposes, such as having an in-law or parent move in with you.
Of course, home additions are costly and complicated, and they're not the ideal option for everyone. But if you need extra living space and you have an unfinished basement, design-build contractors can transform that into a lovely in-law suite.
There are a few things you should keep in mind when you hire design-build contractors to convert your basement into an in-law suite.
Let in Natural Light
In houses built on sloping lots, basements can allow abundant sunlight in through big windows and glass doors. This is ideal for an in-law suite since the space should feel as un-basement-like as possible for comfort. But if your basement is almost entirely underground, natural light will be severely limited. If this is the case, you should consider having windows wells constructed along the outside walls to let in light.
There are other lighting considerations. Make sure the interior lights you use are warm and natural-feeling, and that there are enough of them to thoroughly light up the space at night.
Prioritize Access and Egress
Besides creating a more comfortable environment, large window wells can serve as emergency fire escapes through egress wincows should they ever be needed. This is another important consideration, as basements with limited entrances and exits can pose serious safety hazards. If the house catches fire, you can't safely exit the basement by going upstairs, so having multiple, accessible direct exits is important.
This brings us to the next thing you should remember to convert your basement to an in-law suite: prioritize access and egress (or escape). Although building codes require some provision for emergency entry and egress, it's wise to go above and beyond in this department when elders are going to be living there. And besides being safer, an exterior door to the basement will provide enhanced privacy, comfort, and fresh air to your parents or in-laws.
Watch Out for Excess Moisture
Basements are known for maintaining a relatively steady temperature year-round, which makes them easy to cool in the summer and heat in the winter. However, they're also infamous for excess moisture levels. When you're making multi-room renovations in your basement, this is something you'll want to prepare for.
Many people use sump pumps and dehumidifiers to combat excess moisture, essentially attacking the water directly. However, these are not perfect solutions and the musty smell will likely remain. Instead, you should target the source of the water itself. In many cases, excess water comes from gutters and downspouts pouring rainwater down next to the basement walls. By ensuring your gutters are in good shape and the downspouts direct water well away from the house, you may take care of your basement moisture problem.
These are just a few things design-build contractors look at when they renovate basement areas. We hope this article has inspired you with some of your own ideas for building your perfect in-law suite.