How Walk-In Showers Make Your Bathroom Feel Bigger
2019 2019 1 Comments
Do you wish you had a more open, spacious bathroom? Many people put tiny shower stalls in small bathrooms to avoid taking up too much space, but a walk-in shower is often a better solution. Walk-in showers are stylish, convenient, luxurious, and best of all, they automatically make your bathroom feel bigger.
What Is a Walk-In Shower?
A walk-in shower is a completely or partially open shower, usually with no door or curtain, so you can easily walk into it. Walk-in showers aren't attached to a bathtub, and they often have half-walls or partial walls made of glass or stone.
One of the biggest reasons people choose walk-in showers over enclosed shower stalls is that, when designed right, they truly make the whole bathroom feel bigger.
Why Do Walk-In Showers Make Your Bathroom Feel Bigger?
As a general rule, the more you section off a room into discrete parts, the smaller it will feel. Shower curtains and doors conceal the space within your shower, making it look and feel like a separate space instead of part of the room.
On the other hand, an open floor plan with smooth transitions between areas will create the illusion of more space, so a walk-in shower visually expands the room to include the space inside your shower. That's because when the space inside the shower is visible (or even partially visible) our eyes see it as part of the bathroom instead of as a separate area, making the room feel bigger.
Walk-In Shower Benefits and Features
The fact that walk-in showers create the appearance of more space makes them an especially great choice for small and medium-sized bathrooms, but people choose them for many other reasons too. Here are a few:
Walk-in showers are…
Streamlined and contemporary
Calming and spa-like
Great for people with mobility issues, since there's no bathtub to step over
Simple and minimalist in design with fewer breakable moving parts
Easy to maintain since there are no curtains or doors to clean
What about Privacy?
The most common complaint about walk-in showers is that they offer less privacy, but this depends on how you use your bathroom since privacy is really only an issue when more than one person is using the bathroom at the same time.
Plus, walk-in showers usually have half-walls, which offer some privacy and stop water from spraying out into the rest of the room. Another big advantage of half-walls is that they hold some of the steam from hot water inside, which makes your shower more luxurious and prevents the rest of the bathroom from getting too humid.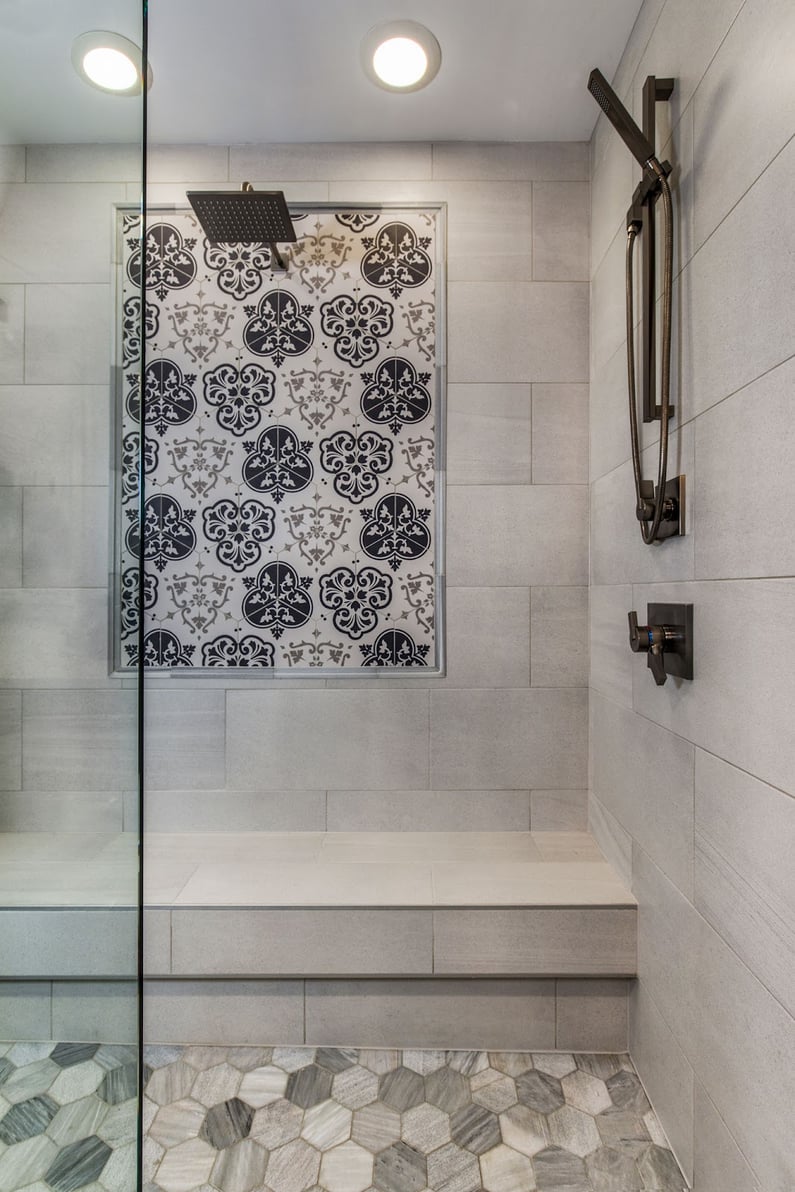 Tips for Designing Your Bathroom with a Walk-In Shower
Walk-in showers can be built a variety of different ways. There's no one way to do it right. Here are some fun features to think about:
Built-in benches
Recessed wall niches for uncluttered storage
A rain (or "rainfall" or "raincan") shower head
A separate drying area where you can towel off in the warmth of the leftover steam without dripping water onto the bathroom floor
If easier mobility is one of your reasons for choosing a walk-in shower, you might also consider:
A completely curbless (a.k.a. roll-in) shower where the shower floor is flush with the bathroom floor
Grab bars
Non-slip tiles
Multiple shower heads at different heights
Are You Planning a Bathroom Remodel with a Walk-In Shower?
Our designers specialize in creating stunning and inspiring custom bathroom designs, often with walk-in showers. Our contractors bring your vision to life with dedicated craftsmanship and attention to detail.
What do you want your new bathroom to look like? If you're ready to start your project, or you just have some questions, call us at (503) 405 9771 or get in touch online.