Hello, thanks for being interested in learning a little more.
My name John May and I started Creekstone Designs almost two decades ago in Minneapolis, Minnesota, fresh off the heels of living a dual life as a business consultant for one of the "Big 6" and doing design and remodels for clients. I was fortunate that my talent and passion helped me realize I was a designer/builder with a consulting problem…so I followed my expertise into founding Creekstone Designs, specializing in designing and installing residential remodels.
You could say I tried everything to avoid what I was good at…in high school I worked as a dishwasher but then gave all my other time interning for a remodeler to learn design and construction. In college, I was an art major, who realized he wanted to make a living, so I switched to Economics…and was regularly reprimanded for doing unapproved remodels of friends' dorm rooms. Yes, you can put custom wainscoting, floating shelf systems and elaborate lighting schemes in a concrete block dorm but as I discovered with the help of the facilities staff, uninstalling all of it is a different story.
Creekstone Featured:
2019 National Design Award Receipent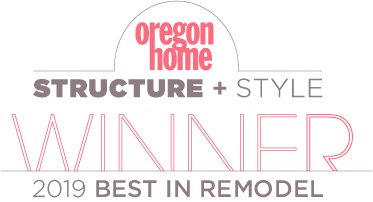 After college, I undertook an unassisted bicycle trip across the country and trek across Nepal before I started an incredible career with one of the top consulting firms in the country. I traveled all over on assignments, learning the good, the bad and ugly of business. The lifestyle was crazy and the business experience invaluable, but of course, I ended up working on clients and colleagues' homes on the side, which lead me to building a business doing what I was really good at doing: design and remodeling.
A few things that helped along the way was a family of plumbers and a mother whose perseverance was like no other. She redefined impossible, by raising a baby and completing medical school on her own, as Dad was stationed abroad. Clearly "I can't" was not in the family vocabulary.
Today, life if great, in between it all I am an avid fly fisherman and passionate trainer of professional ski instructors. I am a proud member of the PSIA-NW Technical Team and on the National Board of Directors for Professional Ski Instructors of America.
I am the biggest fan of my ridiculously amazing wife and daughter. Other than my wife's questionable choice of a husband, she is the best, toughest, Eastern Oregon, social justice advocating, horse riding, get yourself up and dust yourself off cowgirl I could ever be blessed to be with….and the little one is right behind.
She has been a partner in our adventures in skiing (she coaches ski instructors as well), wading numerous fly-fishing rivers, retreating to an Alaska cabin each year, traveling, and our embarrassing pursuit as wanna-be foodies.
Thanks for taking the time to learn about me, I look forward to meeting you and seeing how Creekstone Designs can be of help.
Are you looking for Portland remodeling contractors or just want to learn about Remodel Design?
Please use the form below to contact a design remodeler at Creekstone Design + Remodel today!
CCB #173954
7100 SW Hampton Street, Suite 231
Tigard, OR 97223