Not Just Tile: Three Bathroom Flooring Options
2020 0 comments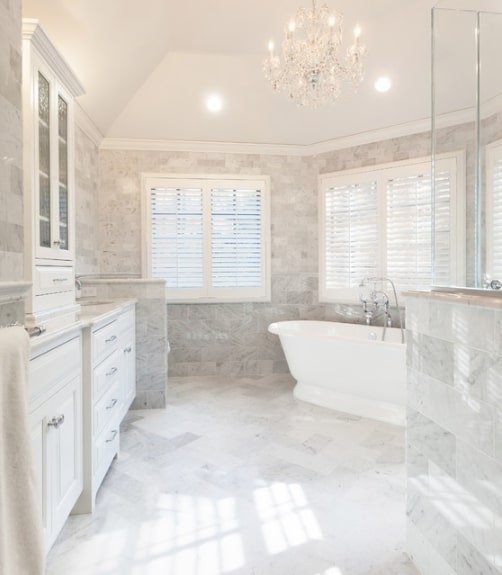 Bathroom remodels are the second-most popular renovation project after kitchen remodels, and with good reason. The average return on investment (ROI) for a bathroom renovation is 70%. Part of getting a good return on your bathroom renovation, though, is choosing the right flooring for your project.
For bathrooms, choosing the right flooring involves considering the performance and the appearance of the material. Tile is the number one choice for bathroom flooring, but it's not necessarily the only option. Here are three bathroom flooring choices for you to consider during your next bathroom remodel.
Natural stone. Natural stone flooring is a chic and highly-functional alternative to standard bathroom tile flooring. Natural stone is durable, long-lasting, and there are a wide variety of textures and colors available. The downside to this flooring option is that it can be pricey, especially in multi-room renovations, and it requires regular maintenance to keep it in good shape.
Vinyl. Vinyl is a popular bathroom flooring option for renovations because it feels good to walk on, can be installed over existing bathroom flooring, and there are waterproof and water-resistant options available. Bathrooms typically have more moisture than the average basement, so it's crucial to have waterproof and water-resistant flooring to avoid mold and mildew. The downside to vinyl flooring is that it doesn't enhance your property value.
Engineered hardwood. Engineered hardwood adds a beautiful touch to your bathroom, especially in darker colors. Engineered hardwood is made from real wood and it's capable of withstanding both heat and moisture relatively well. Like vinyl, engineered hardwood can be installed by your design build remodeling services over existing flooring, and it comes in a wide variety of colors and styles. However, engineered hardwood does have its downsides. Because it's made from real wood, the flooring is only water-resistant. It's not waterproof. If you choose to have this type of flooring installed, you'll have to be careful to soak up any water from the shower or bathtub immediately after washing to avoid water damage.
Ready to get started with a design build remodeling team? Creekstone Design Build is a professional remodeling company that offers high-quality design build remodeling services to help you make the most out of your remodeling project. For more information about bathroom renovations or kitchen remodeling, contact Creekstone Design Build today.