Adding a Vintage Vibe to Your Bathroom Remodel
2021 0 comments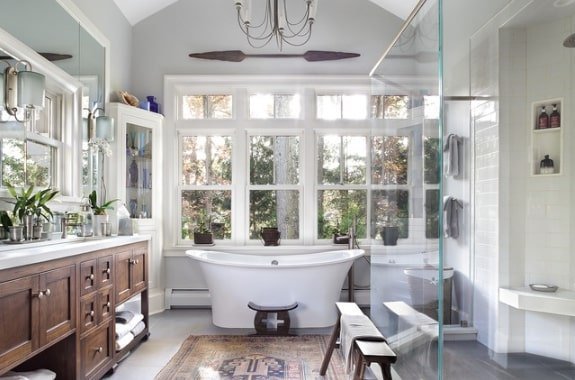 Vintage aesthetics in a modern bathroom? When done right, this winning combo can add a timeless appeal that will charm everyone. If you're ready to hire remodeling companies to make the magic happen, here are some helpful tips for adding a vintage vibe to your bathroom remodel.
Pedestal Sinks
Pedestal sinks are one of the top options for giving your bathroom a classic feel. They come in many styles to choose from, depending on the statement you're going for. The pedestal sinks can be paired with vintage-inspired faucets in chrome, copper, brass, nickel, or bronze.
Retro Tile
Retro tile is all about vibrant colors and complementing patterns. Popular patterns include floral, geometric, and checkerboard designs. Additionally, you can try all sorts of different formats and shapes to help you create a feeling of grandeur and an eye-catching design.
Clawfoot Tubs
Clawfoot tubs are back in style. They're beautiful and bold enough to command center stage in your bathroom Combined with modern manufacturing, you can be sure to enjoy a truly luxurious bath.
Exposed Pipe Faucets
Exposed pipe faucets are one great way to add vintage aesthetics to your bathroom remodel. A toilet or sink with exposed pipes can look really stylish when paired with modern design elements or even something traditional like a claw foot tub.
Tips for Adding Vintage Aesthetics to Your Bathroom Remodel
Keep these tips in mind during your bathroom remodel:
Vintage styles encompass many different bathroom styles from different eras. Most remodeling companies can help you achieve the look you want, so long as you're clear about the theme and look you want to create.
While you don't want your bathroom company to break the bank, you should also strive to incorporate quality fixtures that are truly timeless in appeal and function. Again, most reputable remodeling companies can help you choose quality material that's well worth investing in.
Typically, you don't want to add vintage aesthetics that are too overwhelming. Keep it simple – for instance, you can add colorful tiles with patterns to a small area of your walls instead of everywhere.
As a last tip, make sure you take your time comparing remodeling companies so you find the best one for you. It's well-known that bathroom improvements are a great way to boost your home's value.