Weighing the Costs of Your Next Home Remodeling Project
2023 0 comments
So, you're ready to remodel your house into the home of your dreams? Amidst the excitement of planning the perfect space, choosing styles, colors, and materials, and visualizing future family gatherings, one big question looms: "What is it going to cost?"
Can you really put a price on happiness? Let's put it this way— sticking to the budget will put a smile on anyone's face. But to really get an idea of how much your project may cost, take a look at our various kinds of projects and their pricing tiers on our website.
For our current cost guidelines, we used third party information, beginning with remodeling data specific to the Portland area, which can be found in the 2022 Portland Remodeling Cost vs. Value Report on our cost page. A detailed resource, this report covers the average cost of area home remodels, their scope, and even the resale value.
To piggyback on the Cost vs Value Report, we have assembled some additional notes on selections which will impact your project cost across a variety of popular remodeling projects. Read on to learn more--and don't hesitate to contact us with any questions.
Kitchen Remodeling Options
The kitchen truly is the heart of the home, but it's hard to feel the love when there isn't enough counterspace to cook a meal. In the end, any improvement to this high-traffic space will be a welcome one.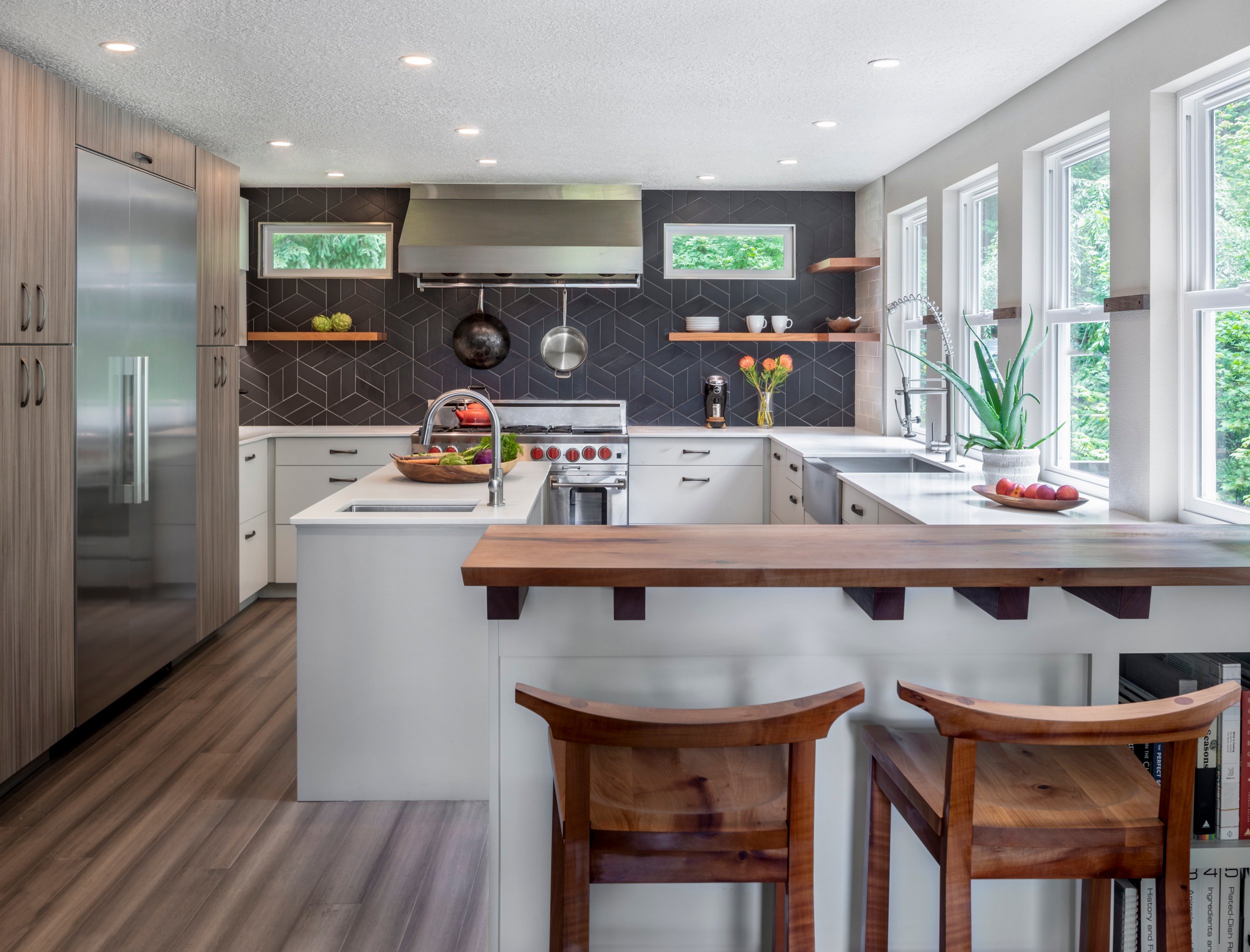 A basic, budget-friendly kitchen remodel typically includes:
Stock cabinets

Laminate countertops

Vinyl or LVT flooring

Builder-grade appliances
For a mid-range remodel, you'll find:
Semi-custom cabinetry

Tier 1 or tier 2 quartz or granite countertops

New flooring throughout the space

Relocating the sink and lighting

Mid-level appliances
Finally, for a high-end kitchen renovation, you can expect:
Custom cabinetry

Tier 3 or tier 4 quartz or granite countertops, or counters made from other specialty materials

Relocating the sink

Structural changes, such as relocating walls

Adding windows and doors

Incorporating new flooring with the rest of the level

High-end appliances
Every home is different, so it's important to be mindful of variables that might increase the final cost of your kitchen renovation, such as bringing the space up to the current codes, re-piping where needed, removing load-bearing walls or fireplaces, and creating an access point if there isn't one beneath the area.
Bathroom Remodeling Options
Whether you want to create a spacious oasis to enjoy in your primary bathroom or simply want to add a bit of character to your main floor powder room, the options are endless. Our personal list of must-haves for any budget includes a double vanity whenever possible, a large walk-in shower, lots of storage, and windows to capture the beautiful views from outside.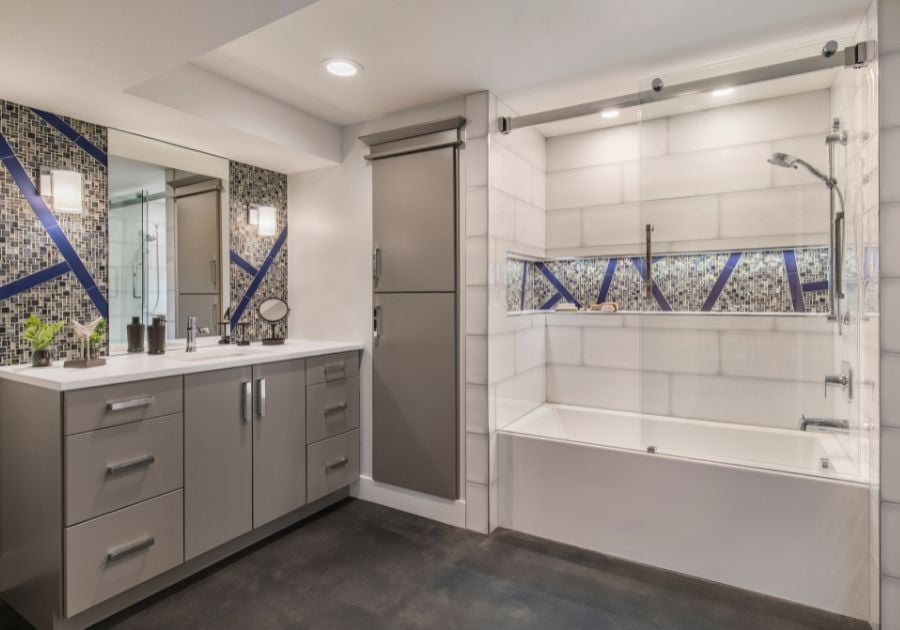 A basic bathroom remodel includes:
Keeping the existing fixture locations

Adding stock cabinets

Laminate countertops

Vinyl flooring

A fiberglass shower surround
For a mid-range bathroom upgrade, you can expect:
Keeping the same toilet location

Possibly moving the shower of vanity, depending on the drains

A tile shower surround

Tile flooring


Finally, a high-end bathroom renovation includes:
Moving walls

Relocating the toilet

Installing a cutting-edge electronic toilet

Creating a curbless shower

Natural stone tile and/or custom tile patterning

Incorporating a body spray system

Adding a steam shower
As with kitchens, bathroom remodels do come with a few cost variables to consider, like galvanized lines and re-pipe work, potential access issues, especially for second-floor bathrooms, and keeping to the plumbing codes for standalone tubs.
Finished Basement Features
From entertainment zones to guest quarters and everything in between, a finished basement is a great way to give your family that extra bit of square footage you desperately need. While these spaces are truly full of possibilities, we're framing our cost brackets around basements with a bedroom, bathroom, living area, and utility room.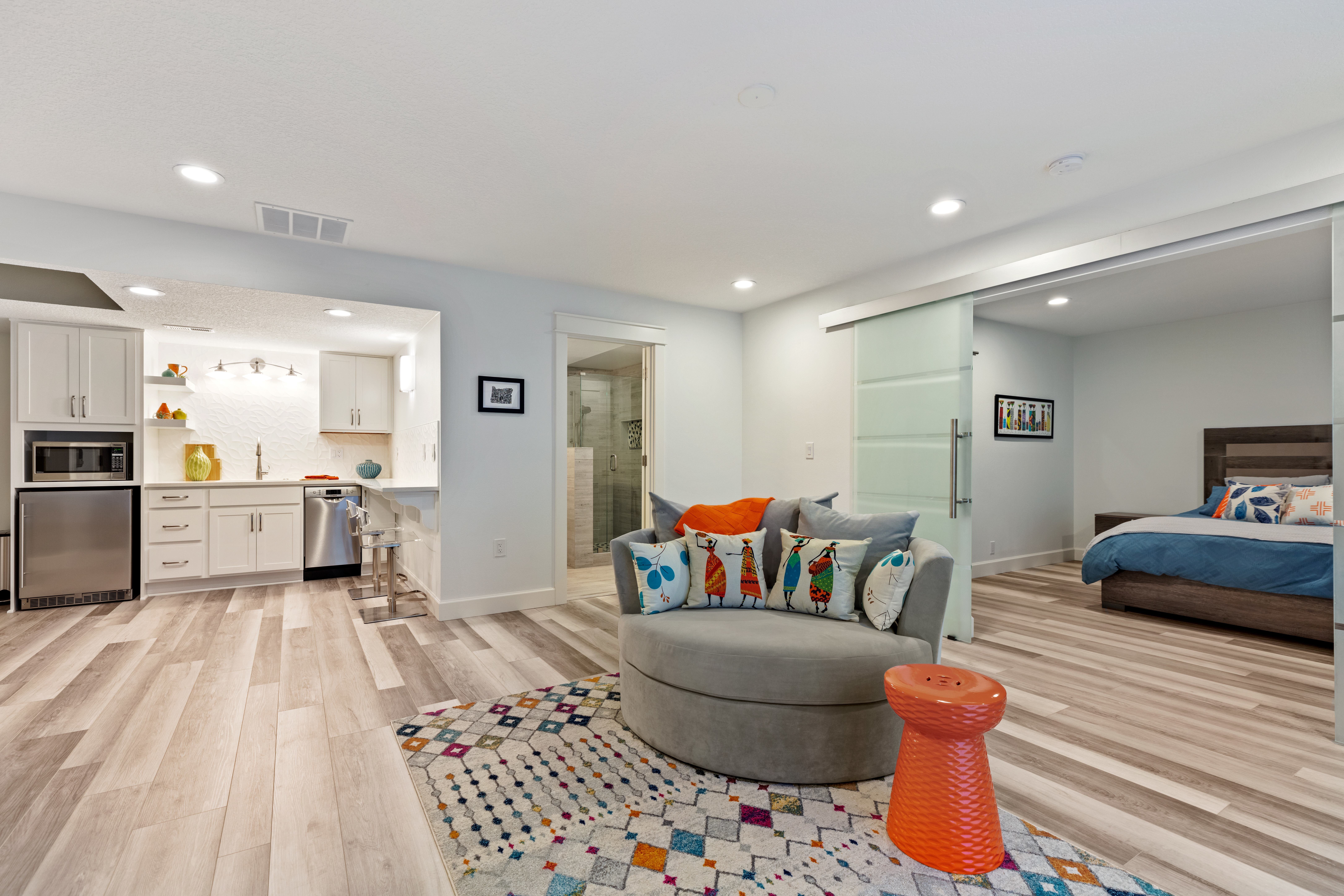 A basic basement renovation includes:
Improving a legal existing bathroom

No structural work

Carpentry
For a mid-range basement remodel, you'll see:
No load-bearing structural work

Adding a new bath with a sewer already under the floor

Adding a bedroom with an egress window

Stained concrete flooring


Finally, a high-end basement remodel includes:
Rebuilding the stairs to meet current codes

Structural work

Specialized upgrades

Multiple egress windows

Custom floor finishes
Though they may be the ultimate blank canvas, basements also come with considerable variables that will affect the cost of your remodel, including an above-ground sewer line, access or egress restrictions, moisture management, radon mitigation, and earthquake safety retrofits.
Plan Your Remodel Now
Creekstone's team of experts can help guide you through the entire remodeling process, from the initial consultation to the final day on the job site. Whether you've budgeted for a simple refresh or a complete home remodel, we're here to make your dream house into a livable reality! Schedule a call with Creekstone today to begin your renovation journey.