3 Ways to Make Your Kitchen Cozier
2020 0 comments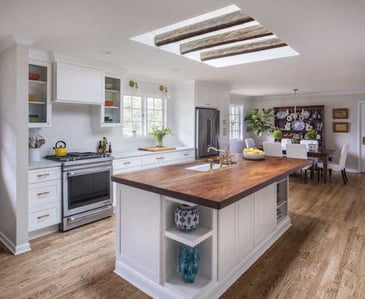 Your family spends a lot of time in the kitchen. Whether you're making meals together, doing homework at the counter, or hosting a party, it makes sense to want your kitchen to be as cozy and comfortable as possible.
But how can you make your kitchen a more enjoyable space? Here are a few ways you can add coziness to your kitchen.
Bring in some color. Minimalist kitchens can be breezy, but when they're all-white it can make the room feel a little sterile. A great way to bring in some personality is to give your kitchen a pop of color. You can do this several ways: adding a colorful backsplash, painting the walls, choosing colorful appliances, or making your island a different color than your cabinets.
Add warmer tones. One of the reasons why butcher block countertops and wood cabinets are popular is because of the warm tones the wood offers. Warm tones instantly give your kitchen that cozy vibe you're looking for. If butcher block countertops or wood cabinetry aren't your style, consider using a butcher block island instead.
Make seating comfortable. A kitchen and dining trend that has become more popular recently is the breakfast nook. Breakfast nooks use connected bench seating around a center table. This brings a sense of togetherness to your kitchen. Of course, breakfast nooks don't work for everyone or every kitchen. But you can still get that same sense of togetherness by making your seating more comfortable. Center your seating around a central piece of furniture, such as an island or dining table, using soft chairs or stools. Seating around a kitchen island, in particular, is a great way to engage your children during meal preparations.
Looking for a bigger, more permanent way to make your kitchen cozier? You're not alone. The remodeling industry is expected to continue to grow by 2% every year through 2025, and kitchen remodeling is one of the most frequently chosen projects. Fortunately, the design build remodeling contractors of Creekstone Design Build have exactly what you need to make your kitchen an enjoyable place to be. For more information about our home additions or kitchen remodeling services, contact Creekstone Design Build today.