3 Signs You Should Remodel Your Master Bathroom
2022 0 comments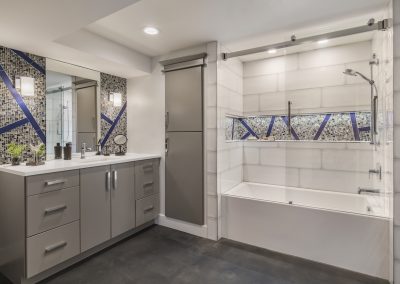 Your bathroom is one of the most important rooms in your home. It's more than just a place where you take a bath. If you're like most people, your day generally starts and finishes in the bathroom. As such, if it's not in good shape, then it can cause problems. There are several reasons why you might decide to remodel your bathroom. Fortunately, bathroom remodels will greatly increase the value of your home. According to Moving, improvements to the bathroom are one of the most effective ways to increase your home's value. On average, most homeowners who renovate their bathrooms get an ROI of around 70%. Let's take a look at some signs it's time to remodel your master bathroom.
1. Outdated Design
People don't normally buy houses in Portland unless they find them attractive. However, over time, a house that was once the talk of the town can lose its charm. That just means its prime has passed. Fortunately, you don't have to be stuck with an outdated bathroom with an unattractive design. You can find a reliable bathroom remodeling contractor who will help you incorporate upscale fixtures and the latest features. Design build contractors will work with you the entire project. Whether you need to update your cabinets and tiles or you want a major expansion, they can go over the latest trends with you until you find something that suits your taste.
2. Your Bathroom Is Too Small
If you don't feel like spending time in your bathroom, then chances are it's not as attractive as it should be. Your master bathroom is not the space for storing wet towels and dirty socks. It's supposed to be clean, attractive, and fresh. Take some time to look at modern bathrooms online to find out if there are any that spark your interest. Not sure where to start? A great idea would be to seek help from design build contractors and let them help you with a concept.
3. Visible Damage, Leaks, Smell, and Humidity
Having leaks in your bathroom can cause a lot of problems. You can end up with mold and mildew. If you're looking for a less drastic route, it might be tempting to just throw in a fresh coat of paint. However, that will not solve your problems if there's damage present. You need to take action before things get worse. A remodel can help you get rid of unsightly and moldy fixtures, as well as get rid of rusty components. Modernizing your fixtures during a remodel can not only help you solve problems, but it can also help you save water as well.
These are some of the signs you need to upgrade your bathroom. To achieve the best results, you need to work with experienced and reliable bathroom design build contractors in Portland. Get in touch with us today to find out more about how we can help you get the master bathroom of your dreams.