Kitchen Remodeling Dos and Don'ts
2021 0 comments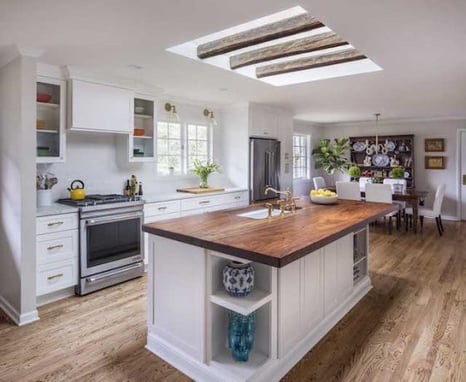 In a study done by Houzz, one-third of homeowners say they've changed to a healthier lifestyle after a kitchen remodel. If you've ever had major home renovations done, you know that kitchen remodeling can be stressful even in the best of times. But it doesn't have to be.
Here are some kitchen remodeling dos and don'ts that can save you a lot of headaches.
Don'ts
Don't DIY. The "do-it-yourself" mentality has a time and a place, and any sort of home renovation or kitchen remodeling should not be taken as an opportunity to dig out your toolbox and flex your amateur handyman muscles. To avoid costly mistakes, always hire a design-build firm for renovations and remodeling.
Don't place your fridge too close to the wall. Placing your refrigerator too close to a wall will make it difficult to fully open the door or doors.
Don't put your oven next to the wall or another appliance. Placing your oven next to the wall can leave you feeling cramped while cooking.
Don't put your wastebasket too far from the sink. Putting your trash can too far from the sink makes cleaning up more difficult. It's best located under or beside the sink.
Don't position recessed lights too far from the countertop. Stand at the counter as if you were using it to prepare something and look directly up. The light should be overhead to avoid casting a shadow onto the countertop while you work.
Dos
Do get a pull-out cabinet for your wastebasket. These cabinets make storing a wastebasket in the kitchen easy and stylish.
Do add as much light as possible. In addition to properly placed recessed lighting, it's a good idea to incorporate natural light as well. You can also incorporate accent lighting where it makes sense to, such as above the island or under cabinets.
Do add an island if you have the space. Kitchen islands are great for adding extra counter space, as well as creating a convenient gathering place for the entire family.
Do create a work triangle. Laying out your major appliances in a working triangle will help the overall flow of the space, as well as help you fall into an efficient workflow when cooking.
Kitchen remodeling need not be the bane of your renovation existence. A few simple guidelines will help you create a beautiful and functional space the whole family can enjoy. Most importantly, do not attempt a renovation on your own. The mistakes listed above are easy to make when you don't have expert guidance from a professional design-build contractor. These dos and don'ts are a great place to start, but a lot more goes into a kitchen remodel than knowing where to place your wastebasket. For a gorgeous and effective kitchen renovation, call Creekstone Design + Remodel today.