How to Renovate a Small Kitchen
2021 0 comments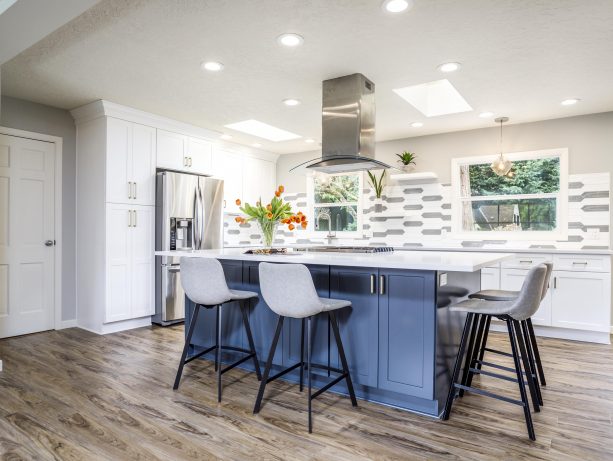 Do you love to cook but your kitchen is too small? Cramped, tiny kitchens make it hard for more than one person to comfortably use the kitchen without becoming aggravated. Open cabinet doors tend to block the flow of movement and it's nearly impossible to enjoy such a tiny space. It makes you want to order take-out all of the time, which isn't very good for your waistline.
A Houzz survey says one-third of homeowners report they changed to a much healthier lifestyle after remodeling their kitchens. New kitchen designers can help you make the most of your space and encourage better nutrition with luxury kitchen remodeling that truly transforms even the tiniest kitchens. Space is important when it comes to kitchen design. However, the lack of space does not mean you have to compromise style.
It Takes Imagination, Thoughtful Ideas, and Careful Planning
Design-build contractors will take many things into consideration to truly transform a small kitchen into a beautiful space. During the planning process, they will discuss all of your options with you. Look at the entire kitchen, door and window openings, and wall placements. Can you envision changes to create a better or new opening? Perhaps a wall could be knocked out to extend kitchen space into another room.
Kitchen designers work wonders with small kitchens. There are always plenty of options and thoughtful ideas. Be sure to share your ideas that can easily be included in clever planning. Top kitchen designers will work with you and take everything into account to make the most of even the tiniest spaces.
Pick a Layout and Design Style
Deciding what type of layout you want for a small kitchen takes the expertise of new kitchen designers. L-shaped and galley layouts work the best in smaller spaces and provide practical prep space and storage while keeping everything close at hand. You may also be introduced to the idea of opening the space. When you open a small kitchen into a living room, common area, or dining room, the area becomes a more inviting location.
Design-build remodeling firms design with intention. No matter the kitchen size, the design can follow traditional, sophisticated, modern, three-toned, or two-toned styles, to name a few. New kitchen designers do more than just throw patterns and colors together. They will recommend a style based on your tastes so that you can create the luxury kitchen of your dreams.
Carefully choose finishing touches that give the illusion of a grander space. The choice of finishes, colors, tile, work surfaces, and flooring can all impact a more spacious atmosphere. Smaller spaces really benefit from neutral and lighter colors as well as reflective surfaces to make the entire room feel larger. Maintain clean lines with handle-less cabinets. This doesn't mean you can't use dark or bold colors. Keep darker shades to the base units while using lighter shades on tall units, worktops, tiling, and splash-backs.
Be Appliance Savvy
Just because a kitchen is smaller does not mean you have to skimp on technology or appliances. Don't abandon your ideas of having a dream kitchen based on a lack of space. Instead, be savvy about picking appliances. New kitchen designers will point you in the right direction when it comes to choosing compact designed appliances that are multi-functional as well. Consider including a tap that offers standard cold, hot, and boiling water. Furthermore, ask about a built-in oven that also features a microwave function to make the most of cramped space.
Is There Room for Any Décor?
Of course! New kitchen designers will focus on the ceiling and walls to add attractive décor. Think tile backsplashes, wall plants, lively paint colors, recessed light fixtures, wall spice racks, and more. Consider accenting with decorative fretwork for cabinets, mirror frames, modern trim, windows, and door panels. Use your imagination and speak with your kitchen designer to include your unique style in your tiny kitchen remodel.