How Can I Make My Bathroom More Functional?
2020 0 comments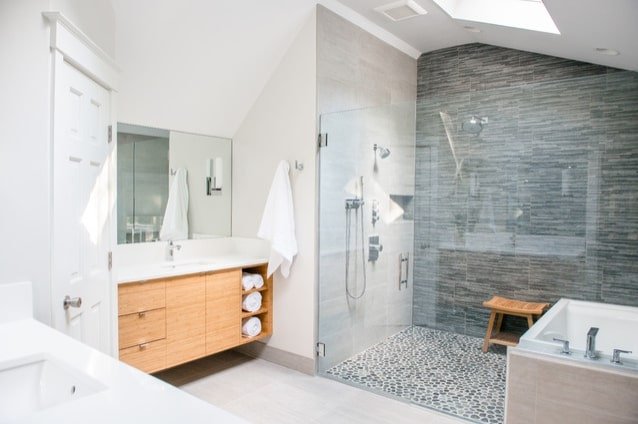 Having a beautiful and spacious bathroom is seen as a luxury for many people. While having a spa-like oasis may be a lifelong dream, the layout of your home might not accommodate a larger bathroom. But contrary to popular belief, you don't necessarily need more square footage in your bathroom to make it more functional and enjoyable.
However, you will want to work with trusted design build remodeling firms to add functionality to your bathroom. Since 58% of homeowners say they plan on spending money to improve their homes this year, there's no time like the present. And although you may decide to do a complete gut job if it's warranted, there are also some small changes you can make that will have a big impact. Here are just a few things that design build remodeling firms can do to make your existing bathroom more functional for your family.
Install a Floating Vanity or Mounted Sink
When you have a bathroom that's on the smaller side, you'll need to make the most of the space you do have. That means you'll want to avoid features that take up unnecessary room. While a handsome vanity or pedestal sink might align with your preferred style, these components are bound to require more space. Therefore, you might want to work with local remodeling companies to find viable alternatives — such as a floating vanity or a mounted sink. These design features will allow for more storage space underneath and will allow for an easier traffic pattern. Having a bathroom that feels more open will give the impression of having more space.
Skip the Bathtub
Many homeowners love the idea of a claw foot tub or whirlpool tub in their bathroom, but it may not be the most practical feature. In fact, most people prefer taking showers over baths — so your bathtub might go largely unused. If you're short on space, you may want to consider nixing the idea of a separate tub or even a shower-tub combination. A smaller standing shower with a glass door will take up less space, be more accessible for aging-in-place, and will give the illusion of increased openness. If pampering is your focus, you can install a high-end showerhead and never miss the few times you choose to use the tub.
Add Vertical Storage
For many of us, functionality is equivalent to having more room for storage. But in a smaller bathroom, storage space is usually hard to come by. It's also difficult to add storage options without making this room seem even smaller. Talk to design build remodeling firms about installing floating shelves or some sleek and subtle cabinets. You can also hang towel bars and baskets, or use ladders and crates, for additional storage options that stay off of the floor. You'd be surprised how well you can make use of a corner or part of a bare wall if you think "up" for your storage.
Whether you decide to undergo a complete bathroom remodel or you're looking for layout changes that will improve functionality, we're here to help. For more information, please contact Creekstone Design and Remodel today.