Eco-Friendly Kitchen Ideas for Your Pacific Northwest Style Home
2019 0 comments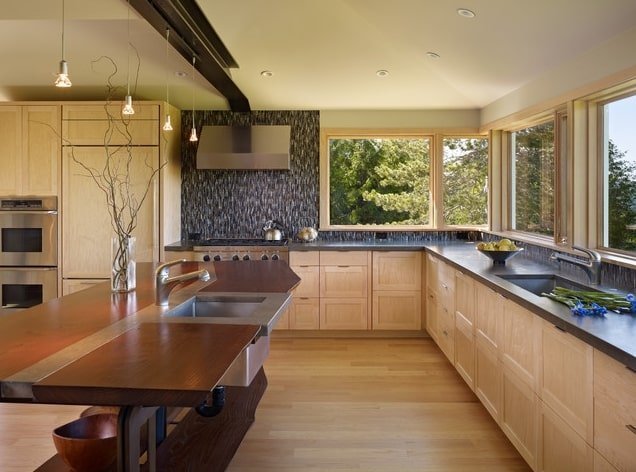 There are so many things to think about when remodeling your kitchen, from choosing materials and designing a layout to making decisions about appliances. One thing that is often overlooked is the impact your new and improved kitchen will have on the environment — not to mention your electricity bill.
Eco-friendly designs are becoming more and more popular, and thankfully they don't have to compromise the elegance or functionality of your kitchen. From materials to lighting, there are a number of choices you can make throughout the remodeling process to make your kitchen as environmentally friendly and sustainable as possible.
Eco-Friendly Kitchen Materials
There's no doubt that some materials are more eco-friendly than others. Stronger, more durable materials that come from renewable sources are generally considered more sustainable since they will last longer and have a reduced impact on natural resources.
Depending on your design tastes and budget, you might even want to consider using recycled or reclaimed materials for your kitchen cabinets, countertops, or flooring!
Cabinets
When shopping for eco-friendly cabinets, look for products and manufacturers that carry the "ESP" seal. Created by the Kitchen Cabinet Manufacturers Association, the ESP (Environmental Stewardship Program) helps consumers, designers, and builders identify cabinetry that is sourced and produced in an environmentally friendly way.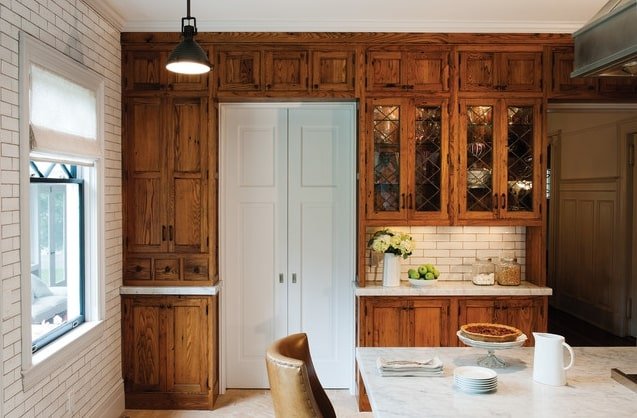 While there are plenty of eco-friendly cabinet options (reclaimed wood being one of our favorites), another option is to resurface your existing cabinets rather than replacing them. Your designer(s) should be able to help you determine if this is a good option for your kitchen remodel.
Countertops
Countertops can make or break your kitchen remodel. Not only do you want them to look great, but you also want them to be durable, easy to maintain, and safe to prepare food on.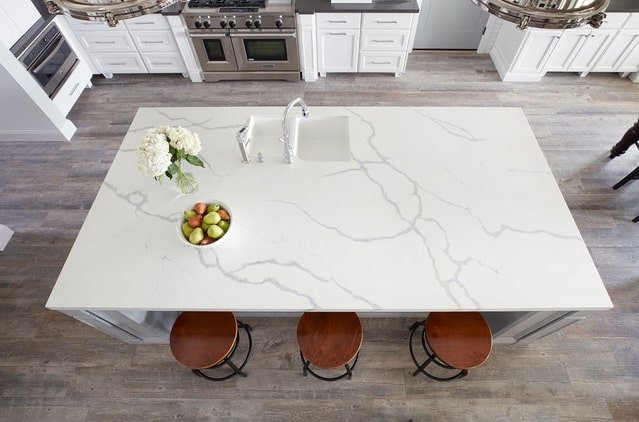 You have a number of options when it comes to eco-friendly countertops. Here are a few of our favorites:
Quartz

Reclaimed wood

Recycled glass

Paper composite

Recycled aluminum
Flooring
Of all the materials in your kitchen, your floors are likely to get the most wear and tear. Not only will you be walking on your kitchen floors daily, but spills, scratches, and other accidents are a fact of life. That's why sustainable flooring generally means durable flooring.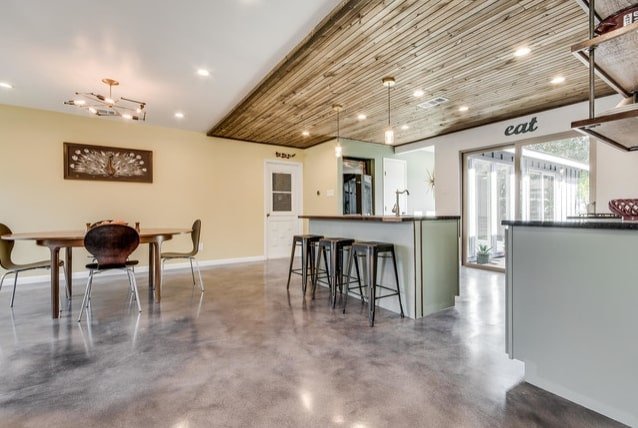 In addition to durability, it's also good to look for renewable materials. Local and recycled materials are also great, eco-friendly options since they limit the amount of energy used in transportation.
Here are a few of our favorite eco-friendly kitchen flooring materials:
Cork

Bamboo

Concrete

Local or reclaimed wood

Terrazzo
Classic Designs Last Longer
One of the most commonly forgotten aspects of sustainable design is longevity. After all, if you end up replacing your cabinets and countertops after a few years because they've gone out of style, the fact that they were made out of durable materials isn't all that helpful.
You want your kitchen to be functional and beautiful for years to come in order to avoid the environmental cost of remodeling your space again in the near future because certain design elements have gone out of style.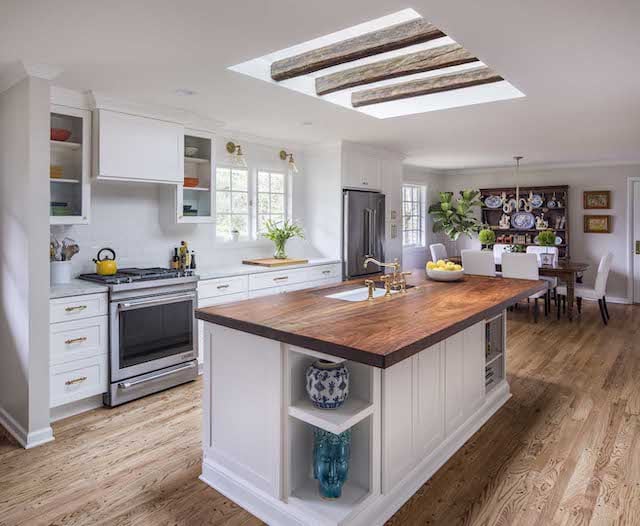 Here are some timeless kitchen design ideas to get you inspired:
Shaker cabinets

Classic

color schemes

, such as white and natural wood or deep browns with greens and other earth tones

Glass cabinet doors

A traditional backsplash (brick, rustic stone, and white subway tile are great options)

Pendant lighting
Energy-Efficient Appliances and Lighting
From refrigerators to dishwashers, energy-efficient appliances not only save you money on your monthly bill — they're also far better for the environment.
One way to ensure you're making eco-friendly choices is to look for appliances that are Energy Star certified by the U.S. Department of Energy. These appliances use less energy than conventional ones and can save you money on your electricity bill in the long run.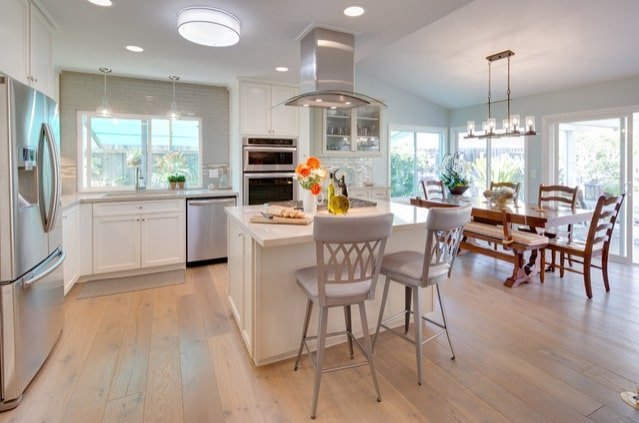 Maximizing the amount of natural light in your kitchen is another great way to save energy since you won't have to rely on as much artificial lighting.
If you're doing a major remodel, consider adding windows, skylights, or a sliding glass door to your kitchen. Natural, lightweight window coverings that allow light into your space can also help distribute natural light throughout your kitchen.
When it comes to indoor lighting, which you're bound to use sometimes, there are a few things you can do to make it easier to save energy:
Opt for LED lighting, which is more efficient than CFL and can

last up to 6 times longer

.

Add dimmer switches to give you more control over the amount of energy you're using.

Separate light switches so you don't have to turn every light in your kitchen on/off at the same time (for example, have different switches for overhead lighting, under-cabinet lighting, and lights above the sink and stove).
Are you planning a kitchen remodel? Want to create a more environmentally friendly space?
At Creekstone Designs, we can help you create the eco-friendly kitchen of your dreams. Sustainability is important to us, and we love working with our clients to design and build environmentally friendly, energy-efficient kitchens they will love spending time in for years to come. Our team of dedicated specialists is with you every step of the way, from the first design consultation to clean up.
If you're thinking of remodeling your kitchen and want to do it in an eco-friendly way, or if you just have general questions about how we work, give us a call at (503) 405-9771 or contact us online.