Timeless Kitchen Cabinet Color Schemes that Will Work in Any Home
2019 0 comments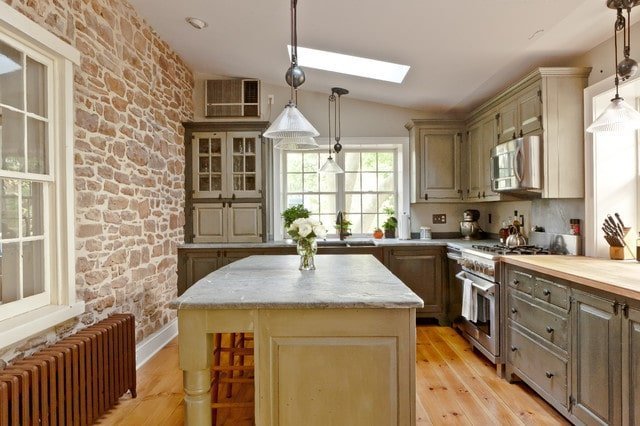 The color scheme of your cabinets can make or break your entire kitchen. You want to choose shades that work well with the design, lighting, materials, and other colors in your kitchen, and that you know you'll love for years to come.
Whether you're completely remodeling your space or just refinishing your existing cabinets, there are some timeless color schemes that look great in just about any kitchen. Here are a few of our favorites:
Crisp White Paired with Natural Wood
White cabinets are truly a classic choice, and you can rest assured they will never go out of style. They add instant freshness to your space and can make a small kitchen look bigger. They also provide a beautiful canvass for the other materials and design elements in your space, especially natural wood.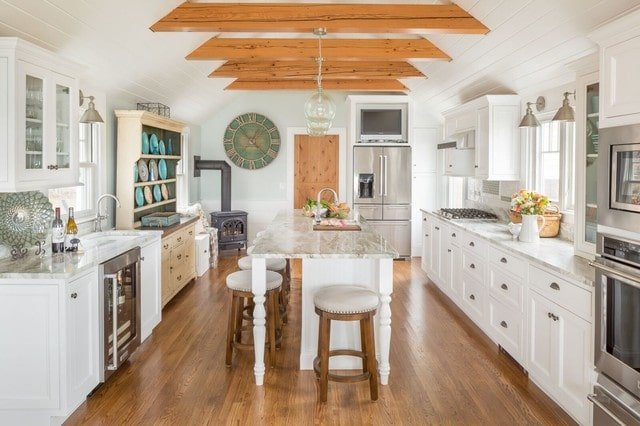 White cabinets allow hardwood floors, butcher block countertops, wood trim, or exposed beams to shine in your kitchen. You can also pair wood cabinets with white ones, or opt for white cabinets with a natural-wood island. The crispness of the white makes natural wood appear warmer and highlights its texture and depth. It's a match made in heaven!
A Mix of Blue and Yellow
A blue and yellow color scheme for your kitchen cabinets may seem like a bold choice, but it can be the perfect way to add brightness and charm to a classic farmhouse kitchen (and it can work in any kitchen with the right design). Blue and yellow cabinets look charming paired with farmhouse sinks, unique designs, and exposed stone, wood, or brick.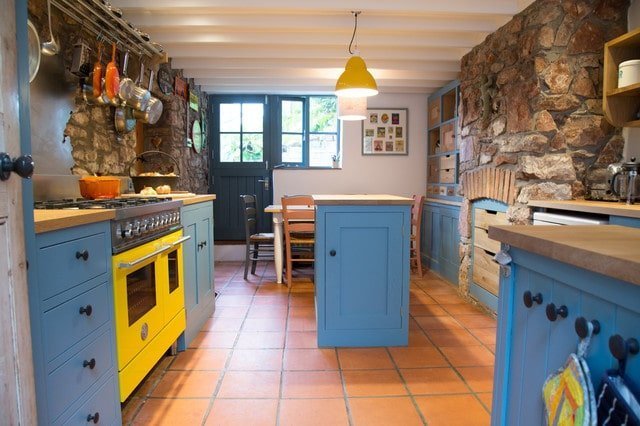 Depending on your other materials, colors, and your personal preferences, you can go as bright and vibrant or as subtle and understated as you like with the tones you choose. Here are a few combinations that look great together:
Sunflower yellow and sky blue

Lemon yellow and baby blue

Cream yellow and ice blue
Black and White with Colorful Accents
The surest way to make your kitchen look sleek and modern without following a trend that may go out of style is to opt for a black and white color scheme. A combination of black and white cabinets adds sophistication and classic flair to any kitchen. Plus it can be paired with just about any other colors and materials.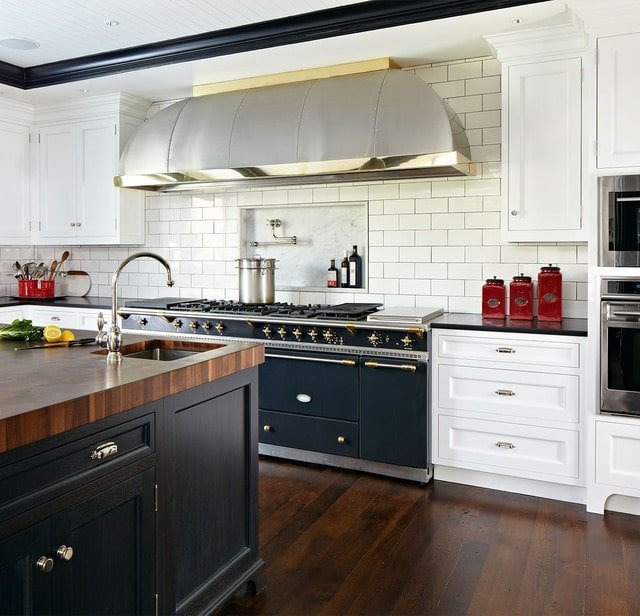 A great way to incorporate other shades and break up some of the contrast is to pair your black and white cabinets with one or two bright and friendly accent colors, like red or green.
You can incorporate your accent color with rugs, towels, pots and pans, candles, or flowers. This allows you to change your accent color when you want to try something new, or to match the season.
Subtle Green with Deep Browns
Light seafoam, jade, or mint cabinets paired with browns, tans, and natural materials creates a warm, calming atmosphere in your kitchen and catches the eye without being overly distracting or busy.
Understated green cabinets work beautifully in cottage, farmhouse, and craftsman style kitchens, and pair well with darker woods like mahogany and walnut. They also perfectly complement natural metals, indoor plants, and unique jars, candles, and knickknacks.
Here are a few ways to incorporate natural browns into a green kitchen:
Warm walnut hardwood floors

Rustic wooden or metal cabinet hardware

A brown island or pot rack

Butcher block countertops

Dark tiles as a backsplash or behind the range
Bold Red Paired with Sleek Black and Natural Elements
In contrast to other bold colors, fire engine red cabinets look classic and refined when combined with the right hardware, countertops, and other materials. Red cabinets can look beautiful in just about any home — from a bungalow in the city to a log cabin — and look perfect when matched with sophisticated black hardware and countertops.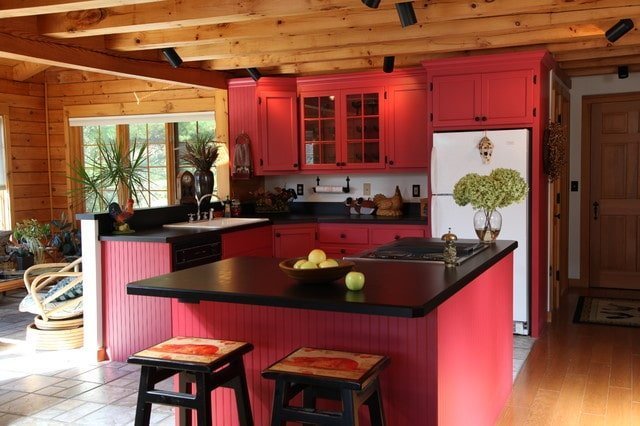 To soften the look of the red and black, it's a good idea to bring in some natural elements like indoor plants, stone, wood, and metal accents. This color scheme looks great with white walls or floors and lots of natural light.
Are you planning a kitchen remodel? Ready to pick the perfect cabinet color scheme?
We're here to help! At Creekstone Designs, we work with you to design the kitchen of your dreams with the perfect colors for your home. We follow a design-build process, meaning we handle every aspect of your project, from the initial design to the finishing touches. If you're planning a kitchen remodel and you have questions, give us a call at (503) 405-9771 or contact us online.