Creative Details Make the Difference in This Kitchen and Basement Remodel
Jan 27, 2021 | 0 comments
Interested in adding style to your space? One of the best things about remodeling is creating a home that truly feels all your own, infused with your personal style throughout. Some homeowners choose dramatically artistic and showstopping elements sure to start conversations — many, however, seek a home with more subtle, but no less incredible, touches. We recently completed a kitchen and basement remodel full of these lovely features, including:
Cool + Warm Contrast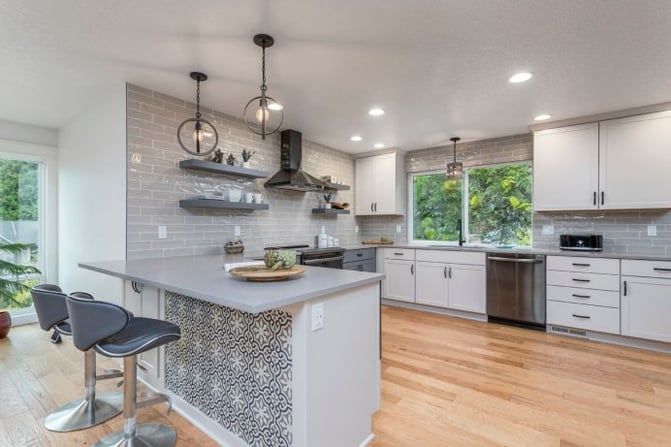 Traditional design wisdom tells us to stick to either a warm or a cool color palette. These homeowners, however, chose a different route in their newly remodeled kitchen. Here, cool gray and bright white surfaces are balanced by warm blond wood floors. The contrast softens the room, making it feel comfortable and welcoming.
Tile Style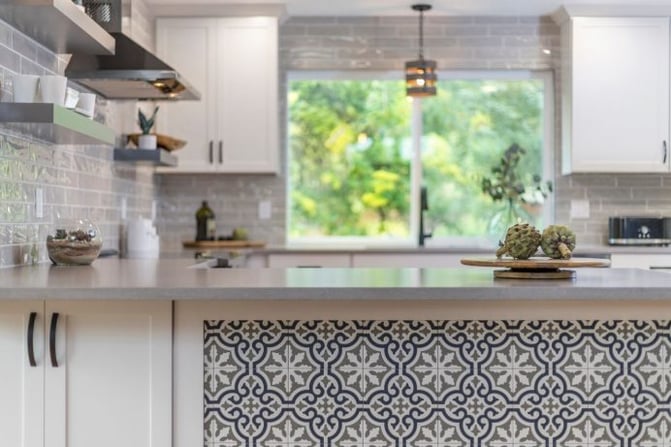 Kitchen island bases are typically wood — except this stunning and artful tile base! This style feels natural yet unexpected, since tile in the kitchen is common, though tile on an island base is decidedly unique. It's also functional — scuffs from diners' shoes are easily wiped away, and sturdy tile resists the chips and dents that often appear in wood.
Chic Chalk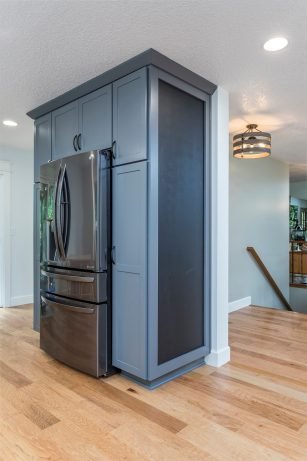 This full panel of chalkboard paint, cleverly placed next to the oversized refrigerator, is fun and functional. It's the perfect place for family notes and reminders, grocery lists, and little ones' artwork — or it can be left blank as a literal clean slate. Unlike a traditionally painted panel, chalkboard panels can change daily, weekly, with the season, or simply as the mood strikes.
Open Space

Floating features don't have a leg to stand on — and that's a good thing. Floating shelves are increasingly popular as open storage solutions, allowing homeowners to display frequently used items or lovely accents. This home also features a floating vanity in the newly created basement bathroom. This creative touch makes the room feel larger, more open, and modern, and perfectly balances the semi-frameless shower.
Frosted Features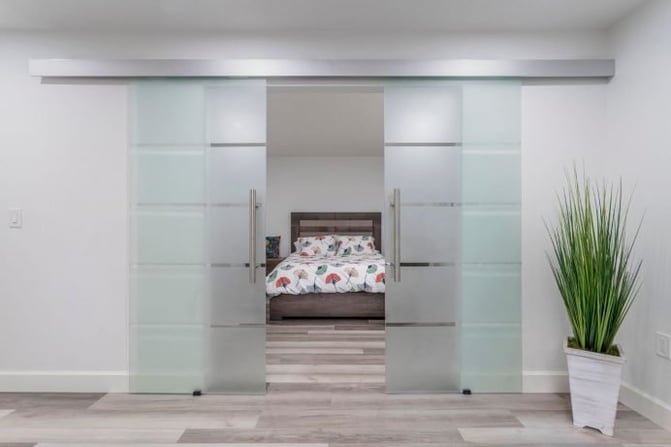 Barn doors are trending. The sliding panels are a popular way to separate rooms without taking up space and can be done in many different styles. Here, the homeowners chose frosted glass that lets the light into their basement bedroom while affording guests privacy.
How would you infuse your home with your personal style? Contact Creekstone Design + Remodel to discover clever ways to showcase your creativity.