Wood vs. Granite: Which Countertop Is Right for Me?
2020 0 comments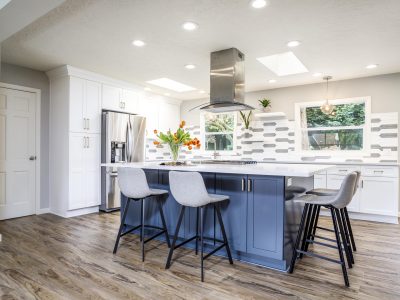 The kitchen is the heart of the home, which means the way it functions and looks can have a big impact on your mood and lifestyle. In fact, about one-third of homeowners say they adopted a healthier lifestyle after a kitchen remodeling project.
One of the first things that's changed out during a kitchen remodel is the countertop. Granite and wood, specifically butcher block, are two of the most popular choices for new countertops during a kitchen remodel. Both are great design choices, which can make it difficult to choose between them. To help you make an informed decision, here are the pros and cons of both.
Butcher block countertops
One of the biggest benefits of butcher block countertops is they're available in several wood types such as birch, maple, cherry, walnut, and mixed woods. Butcher block countertops work best in kitchens with a rustic or farmhouse style. They also work well in kitchens that have vintage architectural details.
Another benefit of butcher block countertops is that they're recyclable, making them eco-friendly. They're also thick and don't scratch easily, making them very durable. Of course, if you want to add to the rustic charm of your kitchen, you can use the countertop as a cutting board because it's made from real wood. Just be aware of the marks that may be left behind.
The downside to butcher block is that these countertops can hold heat, which makes them less heat resistant than granite. You'll need to place a pot-holder down before placing a hot pan or pot onto the countertop. Butcher block countertops also need to be cleaned and sealed regularly to work correctly.
Granite countertops
Professional kitchen designers will agree that granite countertops are most often selected because of their beautiful appearance. Granite is available in an endless number of patterns and colors that really give the kitchen a customized look. Because of the mineral composition of the granite, no set of granite countertops are ever the same.
Of course, granite countertops are more than just pretty. They're also incredibly durable, which is why they're a popular countertop choice. Granite doesn't scratch easily and it can actually cool hot pots and pans that are set onto the counter.
However, granite isn't perfect. These countertops are susceptible to damage from substances such as other granite objects including bowls or cookware. Granite also needs to be sealed periodically to prevent stains.
Looking for professional kitchen designers for your design build remodeling project? Creekstone Design Build has you covered. Our kitchen designers will help you choose the right countertops that work for your lifestyle and the style of your kitchen. To learn more about our kitchen remodeling services, contact our design build remodeling contractors at Creekstone Design Build today.