5 Reasons You Should Use the Design-Build Model When Renovating Your House
2020 0 comments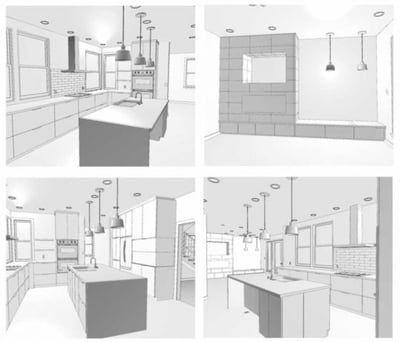 The design-build construction approach is a construction model that is rapidly growing more and more popular in the remodeling and renovations industry. This model uses the services of one team, the design-build team, to provide both design and construction services. This team works in concert with the owner under one contract from the initial idea and concept to the completed project.
This construction model has many advantages. For one, the team comes up with an architectural design for home renovations and works on transforming this vision into reality. Here are five reasons why design-build construction is ideal for kitchen remodeling and other home additions.
1. Utilizes Teamwork
With design-build, the design team and the construction team are often the same. When the same group of people come up with an architectural design for home renovations and then work together to build it, you end up with a more cohesive finished project. Everyone on the staff brings something to the table and collectively contributes towards making the project a success.
In traditional construction, different teams work autonomously, which opens the project up to potential miscommunication. A design-build remodeling company will typically have a team of people that are on the same page, and this is your best bet for a cohesive, inspired renovation project.
2. Seamlessness and Continuity
Another incredible benefit of design-build construction is that it allows for the overall result to be seamless and perfect. This is because the same team works on the remodel from the initial designing stages to the eventual site clean-up. This ensures that there is less opportunity for anything to be lost in translation.
When a different team handles the design and another handles the construction process, the odds of mistakes happening are quite high. However, if the people that planned out your kitchen counter are the ones that get to build it, they're much better suited to do an accurate and precise job.
3. Cost-Effective
Traditional construction is often quite expensive. This is because you have to account for all the different parties that are involved in the work. Ideally, you'd have to hire a designer to get an architectural design for home renovations. You'd also have to hire masons, a painter, technicians, and plumbers. Design-build saves you the trouble of doing all that.
Since the same team of people does all the work, design-build construction helps enhances your budget so you can then redirect your funds to making sure you get all the additions you want for your home.
4. Experienced Workers
Another advantage of design-build construction is that it is generally done by seasoned and qualified workers. Thanks to their extensive experience and long years of work in the industry, these builders are well-equipped with what it takes to turn an idea into reality. This implies that they not only have what it takes to come up with an impressive architectural design for home renovations but also to efficiently convert it into an actual addition.
5. Quality Work
Design-build construction elicits a sense of singular responsibility in all parties involved in the process. This helps instill the drive for quality work and performance throughout the process and there's no room for finger-pointing or blame shifting.
When design-builders from remodeling companies are coming up with an architectural design for home renovations, they are highly inspired to generate accurate and error-free plans. This precision and dedication to quality translates all through the construction process. This ensures that you end up proud and satisfied with the end result.
Why Choose Design-Build Construction
Design-build construction is the easiest way to ensure you have smooth sailing for your home remodeling project. This construction model guarantees quality work, saves you lots of time and money, exposes you to experienced professionals and rides on team effort. It is the surest bet you have to getting the kitchen or bathroom you've always wanted.