What Features Make the Best Guest Bathrooms?
2020 0 comments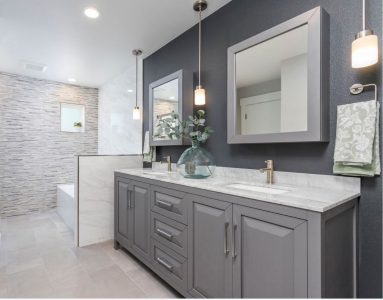 The master bathroom is typically the main focus when it comes to new and improved bathroom design ideas. But your guest bathroom is just as important, especially considering it's the one your guests will see the most when they come over. Think of your guest bathroom's new design as a gift to your friends and family that just so happens to have a return on investment of 70%.
How do you know which features to include in your guest bathroom remodel? Here are three features you might find in some of the stylish guest bathrooms across the country.
Elbow room. The key to a great guest bathroom is the ability to move around. While aesthetics are great, it can be hard to appreciate a bold vanity when you need to do a line dance to get from the toilet to the sink to the door. Make sure when you're designing your guest bathroom with your professional remodeling company that your guests have plenty of room to spread out. Overcrowding your design can leave your guests feeling crowded, too.
Storage space. Storage space is essential in any bathroom, but especially in your guest bathroom. Make sure that there are plenty of hooks and shelves where your friends and family can store their toiletries and clothes while they're staying with you, even if it's just for the weekend. The additional storage space can also come in handy when your guests aren't visiting, creating ample room for extra towels, washcloths, and robes.
Neutral colors. If you're looking to dazzle up your guest bathroom, consider opting for a vanity with wood tones and neutral colors. While going bold with color can sometimes be fun, you want your guest bathroom to appeal to friends and family of all ages. Neutral colors, especially wood tones, create a peaceful, spa-like environment. Talk to your design build firms about which vanities are best for your guest bathroom to ensure you're not going overboard with sizing.
Looking for a professional take on your guest bathroom remodeling design? We've got you covered. Creekstone Design Build is a design build remodeling company with the experience you need to create a sleek and stylish guest bathroom you'll love. For more information about our bathroom or kitchen remodeling services, contact Creekstone Design Build today.