5 Unique Ways to Use a Finished Basement
2020 0 comments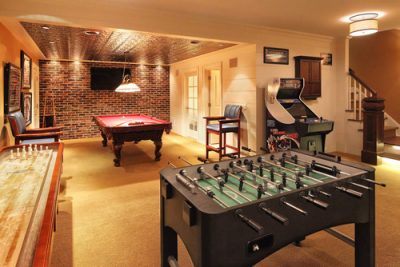 Approximately 85% of homes in the U.S. were built prior to 1980. But while many of those homes need improvements, they often have good "bones." And in many states, they may also have basements.
While some homeowners use their basements merely for storage, having a finished basement can add to your property's usable square footage and allow your family to better enjoy spending time together. With help from design build firms, you can turn your basement into something truly brilliant. Let's take a closer look at five unique concepts you and your remodeling company can consider when finishing your basement.
1. Home Gym
Even under normal circumstances, having to make the daily trek to the gym can be a challenge. More recently, many gyms have remained closed or are restricting the number of guests permitted to work out in these facilities. That makes it harder to fit in your fitness routine. But if you work with a design build firm to create an at-home gym in your finished basement, you'll have full control over when, where, and how you work up a sweat. Not only will you have lots of space available to exercise, but you'll also have far more privacy than you'll get with a gym membership.
2. In-Law Suite
It's becoming more common for multiple generations of families to live under one roof. Whether you want your aging parents to move in with you or you're planning ahead to age in place yourself, working with design build remodeling firms to create an in-law suite can be a great way to utilize your basement space. You'll want to highlight accessible features that will promote the health, safety, independence, and privacy of future occupants. Adding an in-law suite can also add to your property's value and could even allow you to have an income property to supplement your monthly mortgage.
3. Home Office
With more people working from home recently, it makes sense that you might want to officially establish a separate space that allows for peace and productivity. A finished basement can serve as the perfect location for a home office. You'll have more than enough room for a desk, computer monitors, file organizers, a comfortable chair, a printer, and lots of lighting. And if you normally work for yourself or you're thinking of starting your own business, a finished basement can also serve as a place for production or client meetings. If you decide to go that route, it may be wise to talk to your design build firm about creating a separate basement entrance for a more professional experience.
4. Children's Playroom
Worried about keeping your children both occupied and safe this summer? Although outdoor play in the backyard can be a good way to work off that excess energy, you'll need a solution for rainy afternoons. Your design build firm can create a dedicated space for your little ones in your finished basement that will be cozy, durable, and non-hazardous. You'll be able to keep toys organized while allowing their imaginations to run wild during playtime.
5. Media and Entertainment Space
A finished basement isn't just for the young; it's also for the young-at-heart! Your design build firm can create a space that's fun for the whole family to use — particularly if you opt for a home theater or media room. You'll be able to host family movie nights on the big screen or watch the big game in style from the comfort of your own home. Surround sound, luxurious seats, and special lighting are a must for this type of design. With a setup like this, you won't even miss going to your local cinema or sports bar.
Now that you have some inspiration for your finished basement, you can bring your ideas to your home remodeling contractors and turn that dream into a reality. For more information on how we can transform your home, please contact us today.