Should you Salvage your Old Wood Flooring? When to Save vs Scrap
Mar 28, 2019 | 1 Comment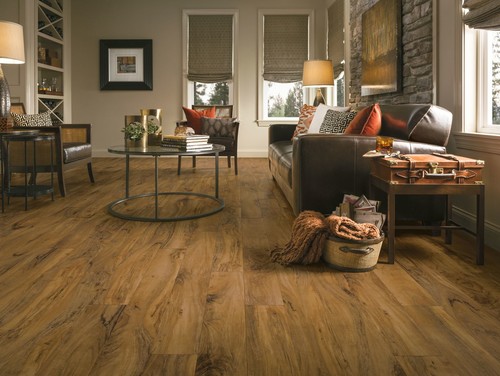 Do you have old, damaged, or out-of-date hardwood floors? Whether you're selling your home or looking to update your flooring for another reason, you may be wondering whether you should salvage your hardwood floors or replace them altogether.
If they're in good condition, hardwood floors are, without a doubt, one of the most desirable features in a home. They're easy to clean, durable, and never go out of style. They can also increase the value of your home by 2.5%.
But when should you save your hardwood floors, and when is it better to scrap them and start over with new ones?
When to Replace Hardwood Flooring
Although most problems can be fixed without removing and replacing the entire floor, not all hardwood flooring can be saved. Simply put, if your current floors are mostly just looking drab and dull, or if they have surface-level damage, you can probably save them. If they have deeper problems, you may need to replace them.
Here are a few common problems that mean you probably need to scrap your existing hardwood floors:
If your floors have structural or underfloor damage — These kinds of problems need to be addressed before you can refinish the floors. If your flooring is damaged beneath the surface, refurbishing them may not be possible, and it may be necessary to pull up the floor to determine if there is frame damage.
If your floorboards wiggle or have large gaps between them — This is often the result of water or moisture damage. If your floors shift or bend when you walk on them, or if there are gaps between boards, refinishing them is unlikely to help, and may actually do more harm than good. Replacing them is generally your safest bet.
If your floor has already been refinished too many times — The best way to fix surface-level damage is typically to sand down floors and then refinish them. However, sanding down hardwood floors makes them thinner, so if your floors have already been refinished 3-5 times, you may not be able to sand them down any further, and replacing them might be the best option.

Even if your floors could be saved, there are times when you're still better off replacing them. For example, if you don't like the design or pattern of your floorboards, refinishing them is unlikely to fix the problem.
When to Salvage Your Hardwood Flooring
If it's possible to save your current hardwood floors, refinishing them is usually the simplest and least expensive option. After all, part of what makes hardwood floors so desirable is that they last many years and can be updated and refinished several times over their lifetime.
What you can expect to spend on refinishing depends on a variety of factors, including square footage, whether stairs are involved, and the current condition of your floors, but the cost of replacing them is almost certain to exceed the cost of refurbishing them.
Although refinishing won't change the pattern, design, or type of wood, it can do a lot more than simply add a new layer of shine. Refinishing your hardwood floors allows you to:
Fix stains, chips, and other surface-level problems
Change the color and tone of your existing flooring
Eliminate small cracks, where bugs, dirt, and dust can accumulate
Limit the risk of splinters by smoothing out your floor's surface
Increase the value of your home
Unless your floors are very old and thin or have structural or water damage, chances are they can be saved. If you want a new or exotic type of wood or are unhappy with the current pattern or thickness of your floorboards, you may want to consider replacing them.
Choosing the Perfect Color for Your Hardwood Floors
Whether you're installing new floors or sanding, staining, and refinishing your existing ones, you'll have the opportunity to choose the color and tone of your new and improved flooring. Ultimately, the right color and style for your home comes down to personal preference.
That said, the color of your hardwood floors can have a big impact.
Here are a few things to consider when choosing a color:
The size of your space — As a rule of thumb, warmer, darker colors tend to make big rooms appear smaller and cozier, while lighter tones tend to open up a space and make it look bigger.
The atmosphere and lighting in your home — Light, bright, and warm colors make your home feel sunny and fresh, and can make a dark room feel lighter. Dark colors, cool tones, and a less glossy finish create a traditional and rustic feel.
Your existing furniture, decor, and materials — Unless you're completely re-doing your entire space, you want your hardwood floors to complement your current paint colors, furniture, decor items, and any other existing wood in your home.
Do you have old, dull, or lackluster hardwood floors in your home? Are you ready for a change?
Whether you're refinishing or replacing your hardwood floors, or if hardwood flooring is an important component of a bigger remodeling project, we're here to help. At Creekstone Designs, we follow a design-build process and are with you every step of the way. We can help you update or replace your old wood flooring and help you create the space of your dreams.
Get in touch today! Call us at (503) 405-9711 or contact us online to discuss your project.