Floating Shelves: Form & Function
2021 0 comments
Looking for an easy way to add beauty and convenient storage to your home? Whether they're used to add to the décor, serve an important purpose, or both, floating shelves are a versatile addition to any space. Let's look at how these homeowners have used floating shelves to visually and functionally enhance their space.
Serious Style…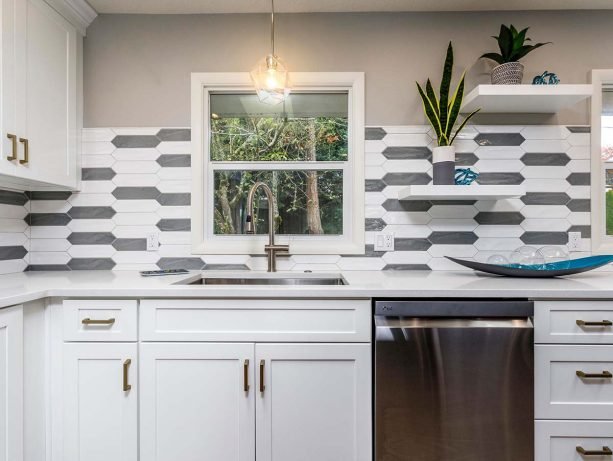 This kitchen's stretched hexagonal backsplash is a fun focal point. Eyes are drawn to the contrasting geometric display, and floating shelves accentuate the look. The backsplash almost seems to be popping out three-dimensionally — whatever is placed there feels like art.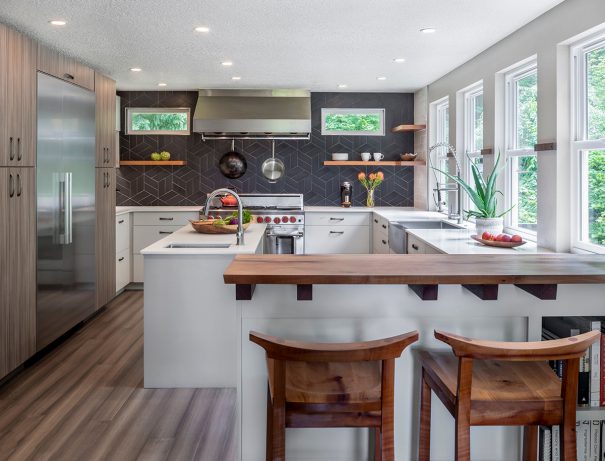 Floating shelves can be crafted to match any style. Wood or metal, painted or stained, they can be the perfect accent. In this kitchen, solid wood floating shelves bring warmth to a very modern backsplash and tie the overall look together. They even coordinate perfectly with the butcher block island and stunning wood barstools.
…Meets Exceptional Convenience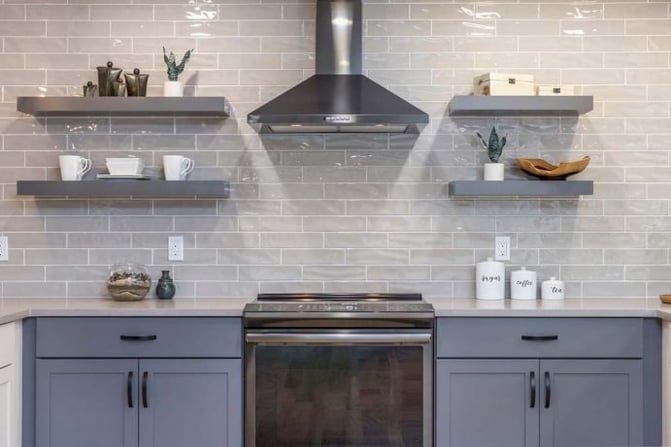 Floating shelves are a perfect way to keep clutter off your countertop while keeping high-use items easily accessible. When these homeowners are about to prepare a meal or grab a quick cup of coffee, their recipe boxes and mugs are right out in the open for excellent convenience.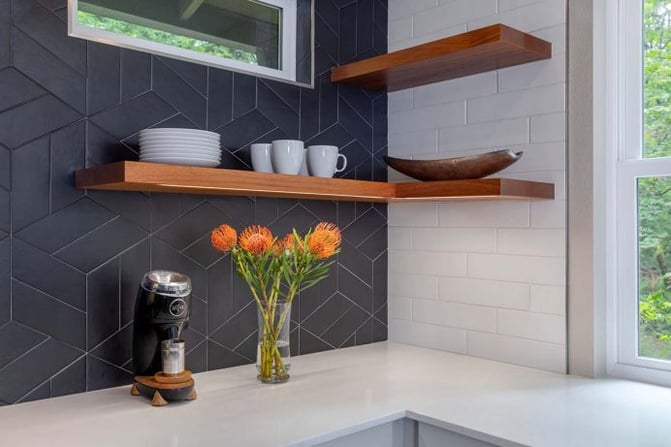 A properly mounted floating shelf can hold a surprising amount of weight so that you can stack plates, bowls, books, or board games with peace of mind. These shelves situated above the espresso machine have the added convenience of under-shelf lighting – early risers can make their coffee with ease!
Floating shelves are a simple way to make a big impact. Both fabulous and functional, it's easy to see why they are a big trend in 2021. Contact us to see how you can incorporate floating shelves in your home!