3 Bold Kitchen Trends in 2020
2020 0 comments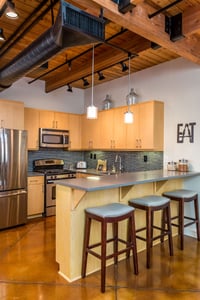 Since the beginning of 2020, there's been less emphasis on white-only kitchens, and a shift toward colorful cooking spaces has accelerated with so many spending more time in their homes.
There are three bold kitchen designs in particular that design build remodeling firms are noticing in interior design trends. Check out these bold and brilliant design ideas below for inspiration.
Vibrant colors (everywhere)
Toward the end of 2019, one of the most popular kitchen design trends was contrasting colors between the upper and lower cabinets. Now, homeowners aren't just changing the colors of their lower cabinets but all their cabinets, their backsplashes, and their walls to bring in as much color as possible in a way that's still pleasing to the eye. These vibrant kitchens are a fun way for homeowners to express their personalities while using stylistic details like clean lines as a way to keep the layout from looking cluttered and overwhelming.
Backsplashes in the spotlight
If going all out with your kitchen colors is too bold for you, there's a slightly more subtle but colorful way for you to bring that wow-factor into your kitchen design. Backsplashes have always been a favorite when it comes to adding an accent piece to a kitchen remodel. But now backsplashes are taking the spotlight.
Homeowners are choosing to up the ante with their backsplashes, choosing vibrant colors like hot pink or brilliant blue. Others are staying neutral with their colors but going loud with patterns, playing with eye-catching designs that are dark and dramatic.
Maximalist wallpaper
Wallpaper has been making its way back into the interior design world, and it's much more charming than you'd think. Green is a popular kitchen design color, and homeowners are opting for wallpaper in the same color palette, choosing wallpaper that replicates plant life to give the kitchen a fun, tropical vibe that isn't overwhelming. Other homeowners are choosing wallpaper with intricate patterns subdued by darker colors to add visual interest.
Looking to give your kitchen a design upgrade? Creekstone Design Build is the design build remodeling firm you can trust to deliver the kitchen remodeling project of your dreams. To learn more about our kitchen renovation services and multi room renovation projects, contact Creekstone Design Build today.