Design Details: The Key to Beautiful Basements
2020 0 comments
Beautifully finished basements are in high demand, as homeowners seek to add spaces to retreat from the chaos of the world above. Finishing the basement not only increases your home's functional living space but can add real value to your home with a surprisingly high return on the investment. The key to a stylish, comfortable basement? It's all in the details. Let's take a look at a recent basement remodel and discover the secrets of its success:
A Luxurious Living Area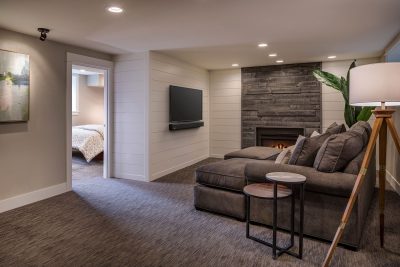 Artful and creative details transformed this basement into a lovely living area the family is always eager to enjoy. Our designers focused on warmth and texture, including:
Shiplap accent walls flanking a warm, rough-hewn wood fireplace
Woven carpeting with a soft and cozy pattern that hides its superior stain resistance
Lighting, lighting everywhere, from LED recessed cans, with adjustable light settings to spotlights to floor lamps
Plush, casual seating that's perfect for kicking back with a great movie or a favorite book
Waterproof under cabinet lighting in wrap around shower niche
Frameless glass barn door for shower
5-foot-long accent window allows natural light in and leaves ample space for furniture against wall
A Beautiful Bedroom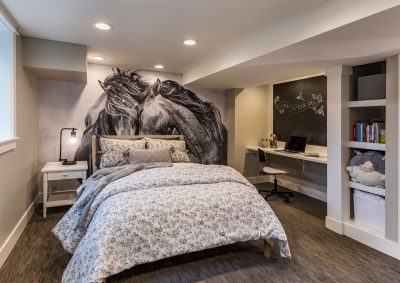 Travel plans canceled? Bring family to you with a welcoming and well-appointed guest suite. This room's unique mural works with the soffits for a burst of distinctly gorgeous personality. It also boasts a desk, chalkboard wall, and open shelving. These fun details also make for a great teen or in-law suite with the perfect amount of privacy. It's also the ideal place to quarantine away from other family members in the unfortunate event that one of you tests positive for COVID-19.
A Spa-Like Bathroom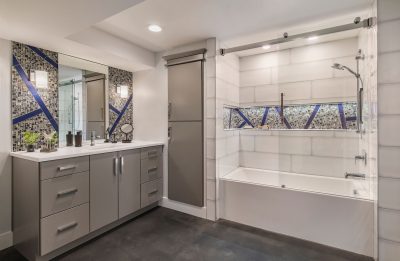 Whether it will be used by guests or homeowners, a basement bathroom must feel comfortable, clean and cozy. This bathroom's eclectic tile patterns are charming and lend just the right amount of color, while the skim coated floor offers a nontraditional alternative to ceramic or vinyl tile. The soft and smooth textures of the bathroom are a counterpoint to the warm fabric of the rest of the basement, making this room feel both crisp and comforting.
Ready to get started on your ideal basement retreat? From game rooms to guest suites, our team of design and construction experts can help bring your unique style to life — contact us today to begin your basement journey.