6 Must-Haves for Your Dream Kitchen Remodel
2019 0 comments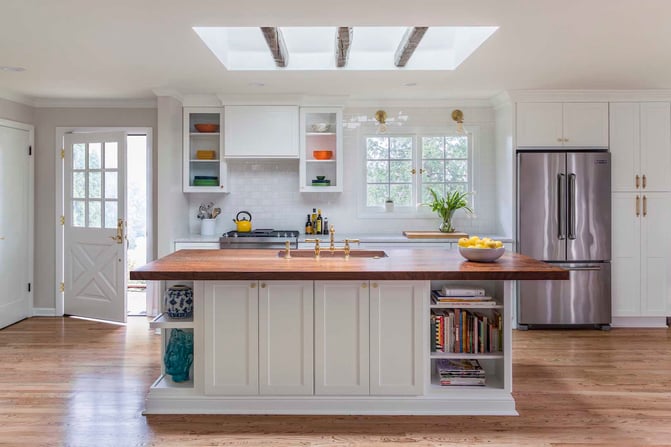 The perfect kitchen is different for each person, and your dream kitchen is unique to you! But whether you have an image of the perfect rustic farmhouse kitchen in your mind or you picture a sleek, modern kitchen with stark colors and gold accents, there are certain features and details that can make your kitchen (and your life) better and easier regardless of style.
Here are our top must-haves for just about any kitchen:
1. Good Lighting
You and your family will likely spend a lot of time in your kitchen doing tasks like cooking, packing lunches, and doing homework (which all require plenty of light). It's important to make sure you have not only enough light, but also the right kind of light in your new kitchen.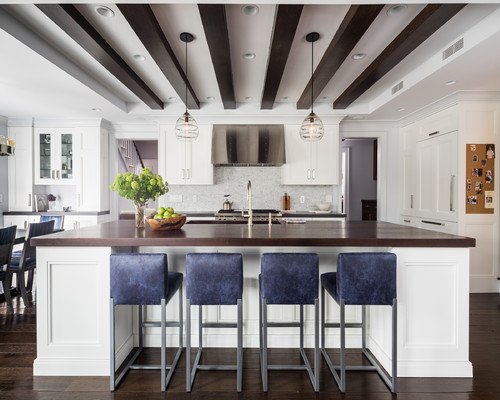 Letting sunlight in with plenty of windows, and maybe even a skylight or two, is a great way to make your kitchen feel bright and welcoming. Exposure to natural light has been shown to impart psychological benefits, improve productivity, and promote better sleep.Make sure you also have plenty of soothing artificial lighting to make early-morning coffee and late-night snacks relaxing and pleasant. Here are a few ways to incorporate artificial light into your dream kitchen remodel:
Pendant lighting above the island

Under-cabinet lighting

Dimmer switches

Recessed lighting

Track lighting

Range hood lighting
2. A Walk-in Pantry
Building a walk-in pantry as part of your kitchen remodel can be a great way to free up space for all the other features you want to include.
A spacious, easy-to-access pantry makes organizing your kitchen so much easier and gives you a hidden place to store all your canned food, pots and pans, and countertop appliances. This allows you to display beautiful teapots, trinkets, a bowl of fruit, and/or other decorative items on your countertops or shelves without creating clutter.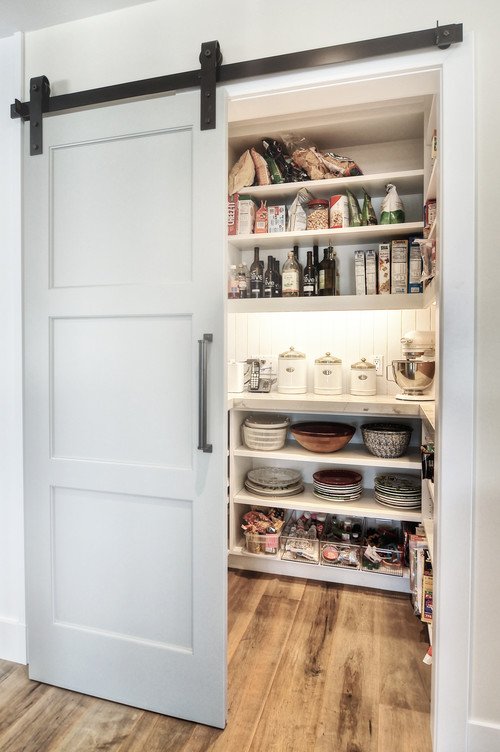 Of course, not every home has space for a walk-in pantry. If you're looking for a more compact solution, think about opting for a pull-out pantry or even repurposing a closet or wardrobe and using it as a pantry in your dining room or hallway to save space. This keeps your items easily accessible but out of the way.
3. Other Space-Saving Storage
One of the best ways to ensure you'll love your kitchen for years to come is to make sure you take advantage of every nook and cranny so you're not left with awkward cabinets, overflowing shelves, and nowhere to put your big pots and pans.
Various storage solutions and special cabinet options are available to help you make every inch of your kitchen practical, usable, and tidy!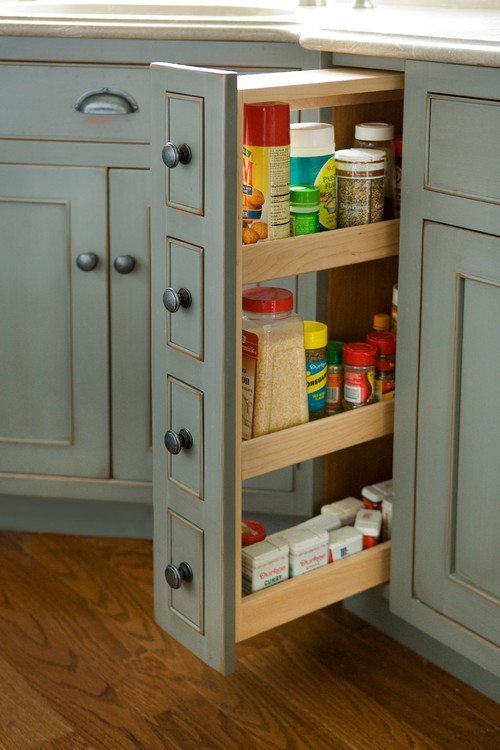 Here are just a few examples:
Full-extension drawers

Pull-out trash and recycling

Lazy Susans in corner cabinets

Pull-out spice drawers

Wall hooks

Magnetic knife racks
4. Ample Counter Space
Whether your kitchen will accommodate an island or you have a smaller galley kitchen, one of the hallmarks of any dream kitchen is plenty of counter space.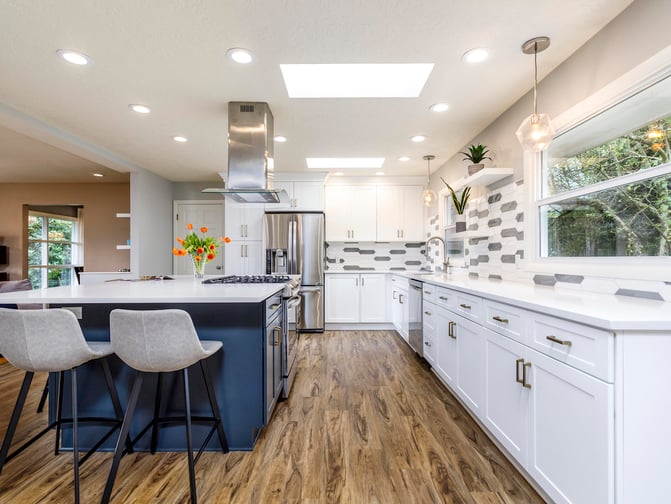 An island or peninsula design instantly gives you extra counter space and allows you to incorporate in-kitchen seating, which can make the space more functional, welcoming, and dynamic.
Even if you're working with limited space, taking advantage of other storage solutions will allow you to make better use of the counter space you have. For example, deep, full-extension drawers or a walk-in pantry will give you the option of keeping countertop appliances, spices, and other items off your countertops when you're not using them.
5. Quality Materials
The materials you choose for your floors, cabinets, countertops, backsplash, and hardware are also important. They not only impact the aesthetics of your kitchen, but some materials are more practical and durable than others, and some require more regular maintenance and cleaning.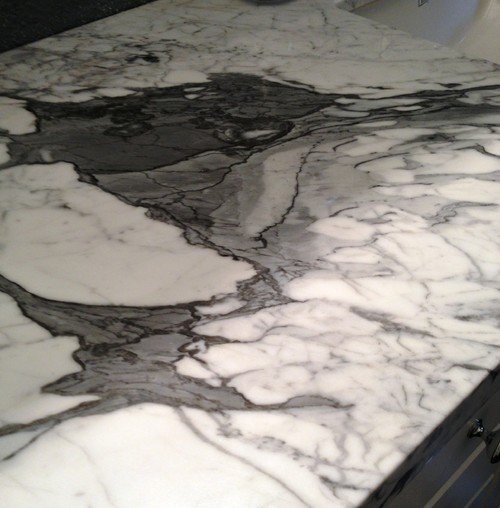 Marble is one of the most sought-after kitchen materials, and for good reason. Every slab of marble is unique, and it never seems to go out of style. But marble requires sealing and regular maintenance.
Wood is a classic choice for floors, cabinets, and even countertops that adds instant warmth and natural beauty. Granite, stainless steel, concrete, tile, metal, and brick are examples of other popular, high-quality materials.
The right materials for your kitchen will depend on the style of your home, your budget, and your own personal design tastes.
6. A Command Center
The kitchen is the perfect place for your home's command center—a central location for organizing, scheduling, meal planning, and other daily or weekly tasks.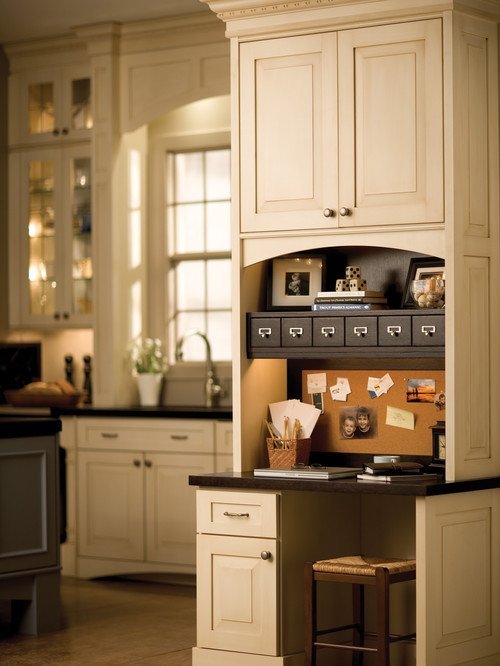 If you have a big family with busy lives, a small desk area can make your kitchen—and your whole home—much easier to manage. Consider including a bulletin board or chalkboard, a computer, recipes, calendar, and mail organizer.
Are you ready to start planning your dream kitchen remodel?
Choosing the style, layout, and details of your dream kitchen can be a fun and low-stress process when you work with people who know what they're doing and care about your project. Let us help you design and build the kitchen you've always wanted! At Creekstone Designs, we work with you, your schedule, and your budget to make your vision a reality.
Give us a call at (503) 405-9771 or contact us online to get started!