3 Tips for Designing Your Perfect Kitchen
Apr 07, 2021 | 0 comments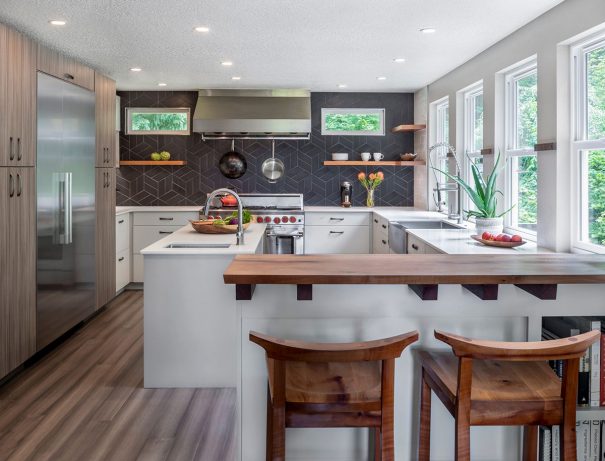 According to Houzz, one-third of homeowners say they start eating more healthily after a kitchen remodeling. Suddenly, cramped spaces are more usable, there's enough room to store healthy food, and counter space abounds. People begin using the kitchen more, preparing healthier food, and adjusting their lifestyles accordingly. These lifestyle changes are a great side effect of remodeling your space.
If you're planning a kitchen remodel, let's take a look at a few ways to make sure that you design a kitchen that will feel like home
Eliminate Wasted Steps
One major problem that's encountered in home kitchens is the amount of walking required to prepare a simple meal. Often, you find yourself tracing and retracing your steps just to get something simple accomplished. As you plan kitchen remodeling, be sure to think about how the space will be used and how you'll move around it. Eliminate as many wasted steps as possible as you move from one part of the kitchen to the next.
Plan Wide Walkways
Kitchens often feel crowded, especially if there are numerous people collaborating on a meal. Plan out your kitchen remodeling to avoid this issue. Wide walkways can help make your entire space feel more roomy and homelike, eliminating the feeling of crowding and helping make sure that everyone who wants to work in the kitchen can share the space.
Consider Conveniences
Have you always wanted a hot water dispenser at the sink or a pot filler near your stove? Would you prefer a double wall oven? What about installing a wine cellar under your kitchen? Remodel your kitchen with upgrades and conveniences in mind, so that you'll have a room that you love to cook in and relax in. This may require a bit of brainstorming, but it's well worth it to determine what would really make your kitchen the best room in the house.
When it's time to turn an eye to kitchen remodeling, it's important to think about practical upgrades as well as fun conveniences. There are some architectural changes that can help make your kitchen space flow better and work more effectively. There are also creature comforts that you may want to consider adding just because they make you happy. Speak to your contractor about both, so that you can truly wind up with the kitchen that you want.