7 Clever Ideas for Home Additions
2021 0 comments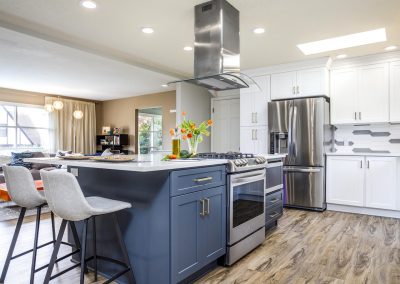 Almost 85% of homes in the U.S. were built before 1980 and now need improvement. Home improvements are an integral part of owning a home. However, improvements are more than just simple interior design variations. True enhancement includes clever ideas for home additions.
Additions greatly impact the design and comfort of your home while affording more space within the floor plan. It is advisable to hire professionals that specialize in architectural design, interior design, and remodeling all within the same design-build firm to confidently create your home addition. They will present you with the best home addition ideas and inspiration, including a few of the ideas below.
1. Glass Walls Give Much to Reflect Upon
A spectacular home addition features glass windows from the floor to the ceiling. It gives the space a glass box appearance while still being anchored to your home via materials that match the exterior. You could have the new space equipped with a folding wall system that opens to the outdoors for dramatic aperture. The overall design has a minimizing effect so the view, as well as the natural light, remain as the focal point of the space.
2. Create a Kitchen Bump-Out
A bump-out, also known as a micro-addition, can add up to 100 square feet to your kitchen. It is considered to be a small update that has a tremendous impact. Use the additional space for an eat-in counter that offers a better view into adjoining rooms. This type of renovation is a smart renovation that opens a room and could allow for superfluous cabinetry.
3. Sunroom Additions Are Stunning
Take home additions to the next level by having a sunroom built to maximizes beautiful views. This type of home addition is an ideal update that could result in a larger addition. Consider adding more square footage to your first floor to enjoy a spacious sunroom perfect for coffee at sunrise and cocktails at sunset.
4. A Cozy Outdoor Living Room
Tap into a back patio that has not been fully customized or upgraded. Patios make impressive home additions that can be enclosed to fashion a cozy outdoor living room. Extending the roof makes this addition project exquisite. Design-build remodeling contractors can articulate the precise plans you desire that increase the livable square footage of your home and extend the luxury you have come to love.
5. Build a Room Over Your Garage
Adding a room over your garage is a brilliant way to gain more space. The foundation is already in place so all that is needed are a few walls and a roof. Use the space as your own private studio, a showcase room, a guest room, a rec room, or as your workspace. The possibilities are endless when it comes to creating additions touting high-end luxuries that make the space your new favorite room.
6. Remodel Your Kitchen with an Addition
Does your kitchen lack a walk-in pantry? Perhaps you have always wanted a breakfast nook. Kitchen remodeling is not limited to using the current space. Have an addition added that provides you with the space you've always wanted. Remodeling companies can transition an otherwise cramped area into a room that flows.
7. Mudroom Additions Help You Organize Better
Are you tired of seeing backpacks, shoes, coats, and keys litter your kitchen or entryway? You need a mudroom addition that can help you organize better and keep the rest of your home looking tidy. Built-in cabinets, cubbies, benches, and wall hooks are just a few of the elements used to create visual appeal and additional storage. The style of your home can easily be carried through in a mudroom so every room in your home is luxuriously appealing.