8 Features Your Luxury Master Bathroom Must Have
2019 0 comments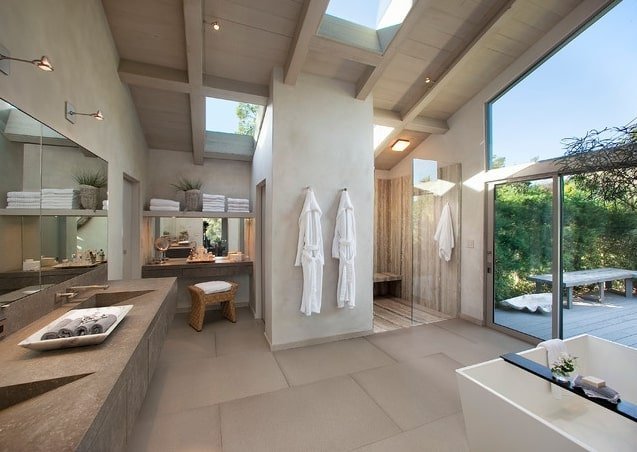 Your master bathroom should be a serene and comfortable place. After all, you're likely to spend time in it every day, morning and night. A luxury master bathroom can function almost like a mini spa in your home — a quiet retreat where you prepare for your day and pamper yourself.
Are you planning to remodel your master bath? Are you looking to create an elegant, sophisticated design? Here are a few must-have luxury bathroom features:
1. High-Quality Materials
What is a luxury master bathroom without high-quality materials? Top-notch, elegant materials for the surfaces in your bathroom instantly add luxury to your space.
Whether used as shower tiles, countertops, or flooring, materials like marble, quartz, and granite stand above other common choices and are guaranteed to look elegant and stand the test of time.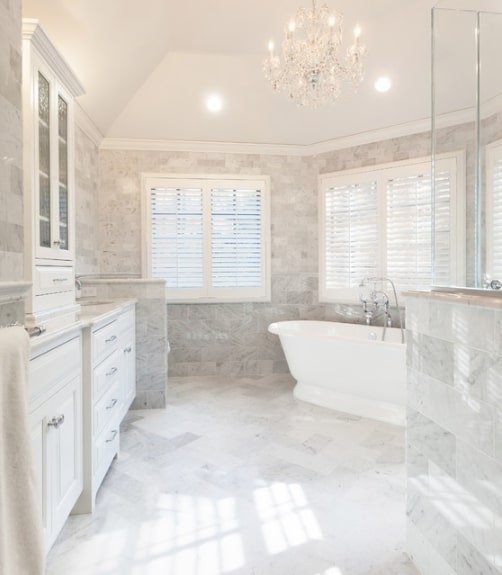 Consider combining larger surfaces of marble or granite with softer touches, like a curved claw-foot tub, fluffy towels, or an elegant piece of upholstered furniture. Natural elements, such as indoor plants or natural wood, also pair beautifully with luxury stone.
2. Skylight
Skylights are a great way to bring natural light into almost any room. They're especially popular in bathrooms because they allow you to incorporate natural lighting into your space without the need for curtains or blinds to preserve privacy.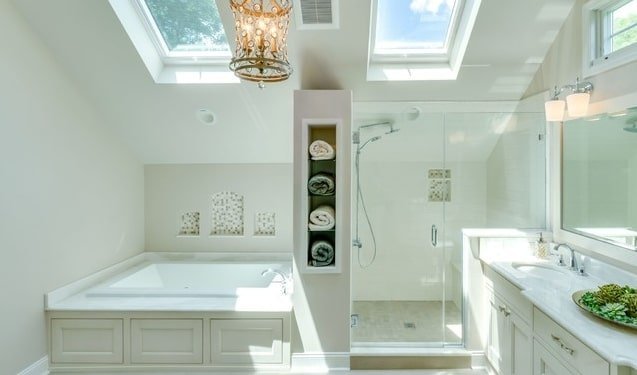 You want your master bathroom to be a calming place where you start and end your day. Skylights can help achieve this by bringing a natural element (sunlight) into your space.
3. Open Shower
One of the best ways to maximize your space and add a luxury, high-end feel to your master bath is to open up the space with a walk-in shower.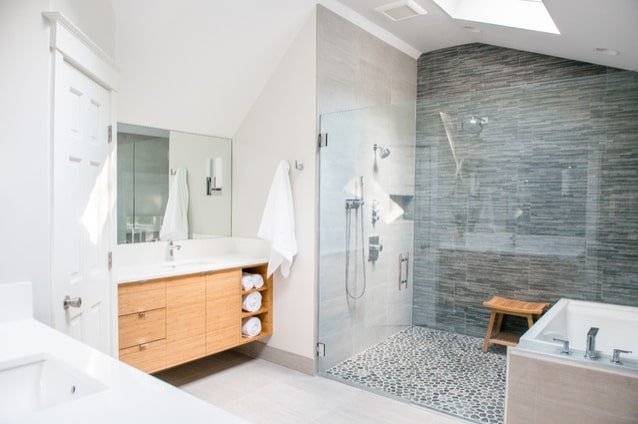 Depending on your layout and design, an open shower can make a huge difference in how spacious your bathroom feels, since the shower essentially becomes a part of the room, rather than a separate stall.
4. Separate Tub
If you have the space, including a bathtub that's separate from your shower is an excellent way to add a luxurious aesthetic and make your bathroom more functional.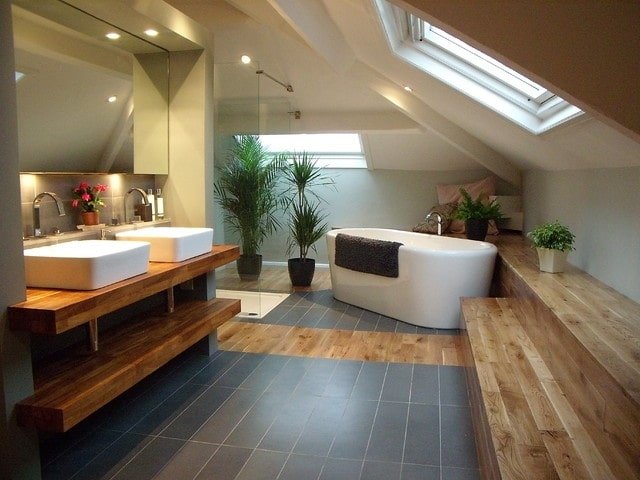 This design breaks up large open spaces, allows you to incorporate more unique materials, and eliminates the need to hide your bathtub behind a shower curtain.
Here are a few great luxury bathtub styles:
Claw-foot tubs
Solid-base freestanding tubs
Luxury alcove tubs
Undermount tubs
Step-up, drop-in tubs
5. Vanity
Nothing says luxury like a separate, table-height vanity. Not only does it help keep your counter/sink area clean and uncluttered, but it also gives you a dedicated, stylish spot to do your hair, skincare, makeup, and general pampering.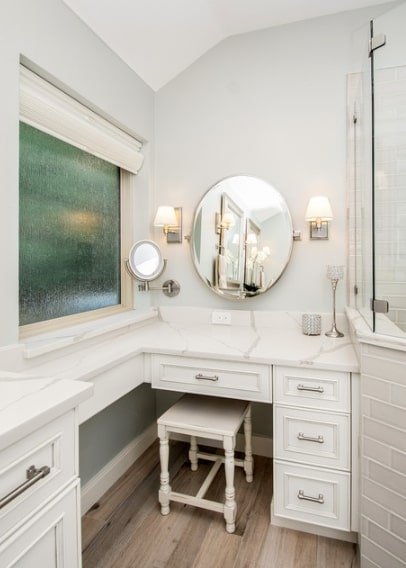 Incorporating drawers, cubbies, and other storage around your vanity is a great way to declutter your medicine cabinet and store the products and tools you are likely to use when you're sitting there. Makeup mirrors, special lighting, scented candles, and other personal touches will help make it a place where you enjoy spending time.
6. Walk-In Closet
If you have the space for it, incorporating a closet into your luxury master bathroom design is not only elegant and sophisticated but practical as well. A walk-in closet adjacent to, or inside your bathroom allows for a seamless morning routine and saves space in your bedroom!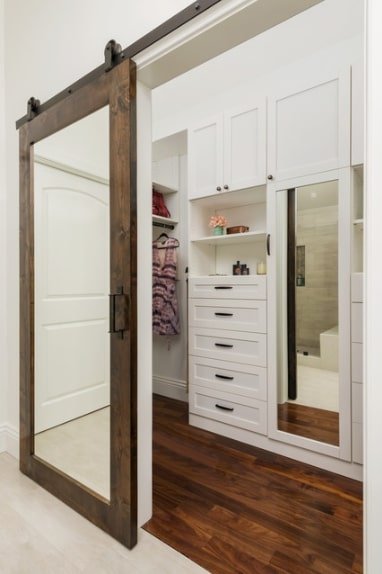 If you don't have space or need for a full walk-in closet, you might still consider adding a wall of shelves or drawers in your bathroom to keep some clothes and other necessities, along with a full-length mirror.
7. Double Sinks
Double sinks are not only functional — especially for shared spaces — they're also an elegant and timeless choice. Incorporating a double-sink design into your luxury remodel also allows you to easily add storage.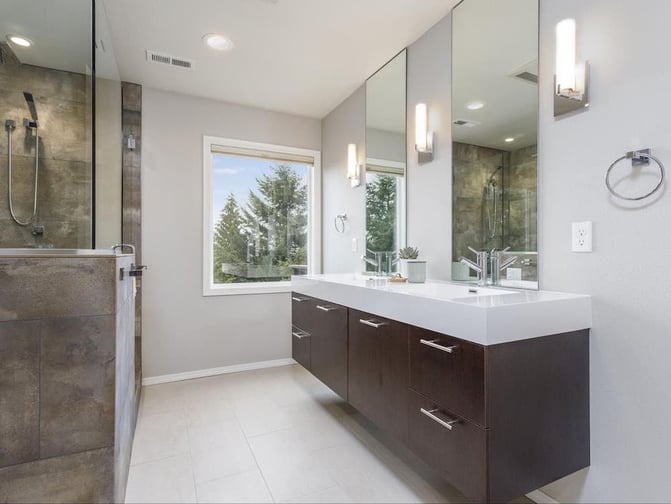 Here are a few of our top picks when it comes to double sink designs:
Two pedestal sinks with separate mirrors
A wall-mounted vanity and a large mirror with built-in LED lighting
Two vessel sink bowls atop a free-standing vanity with shelving
Undermount sinks with marble or granite counters
8. Attention to Detail
When you're designing, remodeling, or reorganizing your master bathroom, it's easy for smaller touches (like bath mats, towels, artwork, soap dispensers, etc.) to become an afterthought. But accessories, accent colors, and artwork play a major role in the overall feel of your bathroom.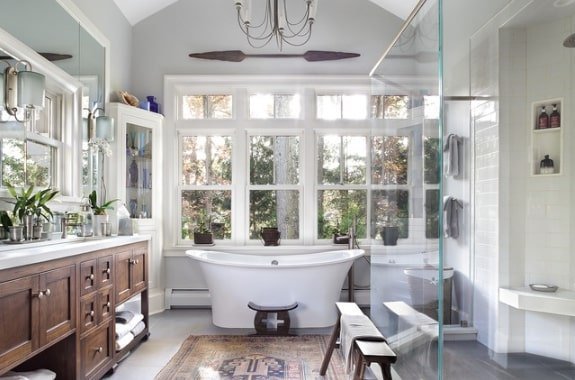 These elements can have a big impact on your space, so it's important to give them the attention they deserve. Here are a few accessories to consider incorporating into your bathroom:
Rugs or mats
Wastebaskets
Laundry hampers
Tissue box covers
Plants
Scented candles
Toothbrush holders and soap dishes/dispensers
Want to incorporate these or other ideas into your luxury master bathroom? Have design questions?
Our dedicated team at Creekstone Designs knows how to design and build the luxury bathroom of your dreams while keeping your personal tastes and budget in mind. We are with you every step of the way, from the idea-generation stage to the finishing touches. Let us help you reinvent your master bathroom!
If you're considering remodeling or updating your master bath or if you have questions, give us a call at (503) 405 9771 or contact us online.